Irish budget operator Ryanair carried 7 million passengers in January, at the top end of projections that had been revised downwards following capacity cuts due to Omicron travel restrictions.
Ryanair passenger levels had been steadily climbing over the second half of last year as border restrictions began to ease and the carrier had originally expected to carry about 10 million passengers in January. However it cut back these projections to 6-7 million after slashing January capacity by a third as fresh travel restrictions were reimposed in European markets to counter the emergence of Omicron.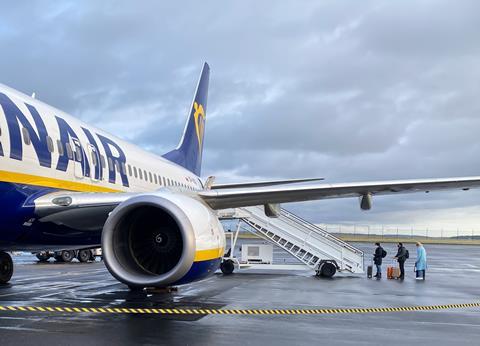 While January is usually a quieter month for passenger travel in Europe, the 7 million passengers marked Ryanair's weakest month of traffic since June and was sharply down on the more than 11 million the carrier flew in October. Traffic in December had also dropped because of the Omicron impact, but less so because of holiday period travel.
Similarly, at 79%, January was the first time Ryanair's load factor fell below 80% since June last year.
In recently reporting a net loss of €96 million ($108 million) for the quarter ended December 2021, Ryanair noted that while bookings had improved following the easing of travel restrictions, "the booking curve remains very late and close-in, so Q4 traffic requires significant price stimulation at lower prices to quickly recover load factors".
Budget rival Wizz Air also today disclosed its carried just under 2.4 million passengers in January at a load factor of 79.2%. While that is lower than the 2.6 million it carried in December, it is more passengers than Wizz carried in November and load factor was at its highest level since October.
Ryanair and Wizz are the the first European carriers to disclose traffic data for January.