Philippine Airlines' (PAL) lessors are bracing for a potential court protection filing by the flag carrier as part of its restructuring amid the Covid-19 pandemic, according to sources close to the process.
Nineteen lessors are exposed to PAL and its subsidiary PAL Express to the tune of 48 aircraft – nearly half of the carrier's 99-strong fleet.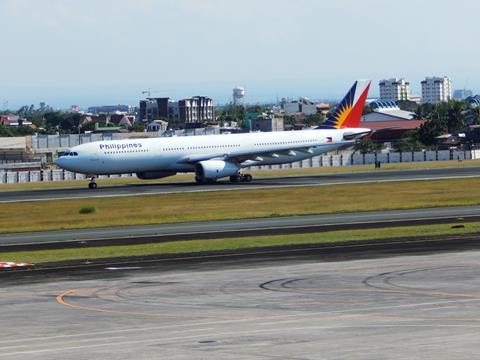 Exact details of the potential filing have not yet been decided upon, sources say, although a Chapter 11 filing in the USA is on the cards. The airline may also seek a pre-packaged insolvency, whereby it would agree a restructuring plan with its creditors in advance of filing.
"Nothing is certain yet. It's still very much a work in progress," says one of the carrier's lessors.
Cirium understands Norton Rose Fulbright has been appointed as airline counsel on the restructuring. The Magic Circle law firm sent documentation to lessors this week regarding amendments to leases and the carrier's restructuring process, according to a person who received the documentation.
Like many struggling airlines around the globe, the airline has been in talks with its lessors for some months about restructuring leases.
As with other major airline restructurings in the Asia-Pacific region, PAL will be looking to reduce its leased fleet and seeking more favourable lease terms on the leased aircraft it decides to keep.
Over 20 of the leased aircraft are widebodies, which will be at more risk of rejection given that Ascend by Cirium does not predict long-haul travel to recover to 2019 levels until 2024-25. Some of those twin-aisles are Airbus A330-300s, which lessors say will particularly struggle to find new homes if PAL sends them back to lessors, especially if other carriers in the region with A330s like AirAsia X flood the market with rejected or repossessed aircraft.
Nikkei Asia reported on 25 November that PAL is looking to return around 20 leased aircraft. Two people Cirium spoke to with exposure to PAL said what Nikkei Asia reported was accurate, with one adding that the exact number of aircraft has yet to be finalised.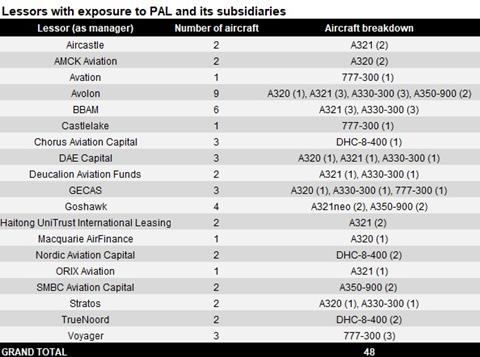 A market source observing the process but not directly involved says PAL has been trying to be "as fair as [it] could be".
"If [for example] you are Avolon and you are getting your A350 back, they would keep your A330. That's how they were behaving," the person says, adding: "I think it's drawing to that natural conclusion: I think people are accepting there are airplanes coming back."
In addition to Norton Rose as its lawyers, PAL has appointed Seabury Capital as a restructuring advisor.
Lessors and other observers praised PAL's approach in conversations with Cirium, saying communication between the airline and its creditors had been smooth and well-handled, albeit lessors will almost certainly be required to take haircuts.
They pointed to how much better the process has been with PAL than other restructurings in the region, including those of Malaysia Airlines, AirAsia X and Lion Air, which have caused them particular headaches.
Lessor complaints to Cirium about Malaysia Airlines' handling of its process lessened after the Malaysian flag carrier brought restructuring expert Houlihan Lokey on board, perhaps highlighting the importance of bringing in outside expertise, as with PAL's appointment of Seabury.
"I think the process has been handled extremely well by the PAL core team and their advisors including Seabury and so on – it had a lot of positive comments," a person close to PAL tells Cirium.
Acknowledging that despite the smoothness of the process, lessors will still need to share some of PAL's pain, the person adds: "It's business unfortunately, and in the [Covid-19] environment we are in, what can you do?
"But there are also compliments that it's been handled quite well in terms of what the ask is, and I think the transparency is extremely important, which is not the case in other [restructurings] where there is just not enough information coming out."
Analysis by Michael Allen of Cirium