AirAsia Group slipped to a MYR953 million ($223 million) net loss in the first quarter, down from a MYR102 million profit in the same three-month period of 2019, as Covid-19 caused demand to plummet.
"Despite kick-starting the year with a strong performance in January 2020, the uncertainty of the outbreak as well as increasing travel restrictions and border controls in regards to Covid-19 has led to weaker air travel demand in February and March," says the airline group.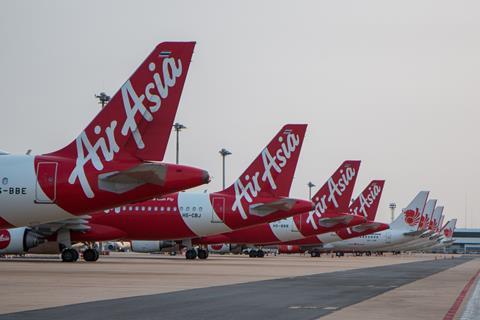 It cut capacity across its airline units by 19% in the first quarter of 2020, and passenger numbers fell 22%. Load factor was still "within expectations" at 77%.
Group revenue dropped 15% year on year to MYR2.3 billion.
AirAsia Philippines had the highest market-share gain during the period, followed by AirAsia Indonesia and AirAsia India. Malaysia, where AirAsia has a 61% share, remains the group's strongest domestic market.
"For each of our operating markets, we have restarted operations in phases and are focusing domestically for now, before opening up to ASEAN and then the rest of Asia when border restrictions are lifted," states AirAsia Group airlines president Bo Lingam.
"We are aiming to increase our flight frequencies to around 50% of our pre-Covid operations, and we look forward to resuming all domestic routes in the coming weeks and months to cater to the increasing demand."
AirAsia Group chief executive Tony Fernandes describes the Covid-19 crisis as the "toughest challenge" the airline has faced since it began operations in 2001. He says the group has been restructured into a "leaner and tighter ship", reducing cash expenses by at least 50%.
"On the airline operations, we are encouraged by the strong rebound demand seen since resuming operations in late April 2020, and we foresee this will continue in the coming months," adds Fernandes. "We have applied for bank loans in our operating countries to shore up our liquidity.
"We have also been presented with proposals to raise capital to strengthen our equity base and/or liquidity from a number of investment bankers, lenders [and] potential investors to help the company weather the storm caused by the Covid-19 pandemic."