Recent growth in the number of coronavirus cases is harming the recovery in air passenger demand and could lead IATA to downgrade its passenger estimates for the remainder of the year, the association has warned.
IATA notes that passenger demand in May was down 91% from the same month last year. This represents a "mild uptick" from the 94% annual drop seen in April, driven by a recovery in domestic markets, especially China.
But data from the second half of June shows that as the number of worldwide coronavirus cases has accelerated over the period, net bookings have again begun to decline.
Speaking during IATA's weekly press call, chief economist Brian Pearce highlighted that although June looked better than May "on average", the reduction during the second half of the month "is causing us to be cautious about prospects in the next few months".
He adds that there is a "downside risk" to the association's current projections. "We still expect an improvement, but not as much as our baseline," says Pearce.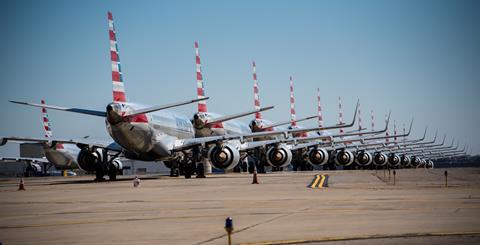 Illustrating the deteriorating market conditions, Pearce showed an updated estimate of revenue passenger-kilometres for 2020 with a downside risk scenario under which RPKs recover only to a fall of 53% in December 2020, versus the recently published baseline scenario of a 36% reduction.
The risk is largely focused on emerging markets and US international flights, as these regions are seeing the bulk of the rise in fresh cases. Together they account for 37% of global RPKs.
Looking at the wider market, Pearce notes that growing business confidence will not necessarily translate to higher corporate travel numbers because companies are likely to be reluctant to allow their staff to travel while the risk of infection remains.
The majority of passengers travel for leisure or to visit friends and family, but confidence among this constituency also remains low. Besides domestic Chinese demand, "[in] other key markets – the US, Germany, UK – we've not really seen a pick-up at all in confidence", Pearce points out.
IATA director general Alexandre de Juniac offers a frank assessment: "May was not quite as terrible as April. That's about the best thing that can be said.
"As predicted, the first improvements in passenger demand are occurring in domestic markets. International traffic remained virtually stopped in May.
"We are only at the very beginning of a long and difficult recovery. And there is tremendous uncertainty about what impact a resurgence of new Covid-19 cases in key markets could have."