Budget carrier Pegasus Airlines saw local restrictions in Turkey dent demand towards the end of 2020, but it remains hopeful of a strong traffic rebound going into the second half of 2021.
Reporting a full-year net loss of €211 million ($251 million) today, the Istanbul Sabiha Gokcen-based operator claims to have "outperformed the industry in capacity recovery" across the 12 months to 31 December 2020, with ASKs at 51% of 2019 levels on a load factor of 80%.
A recovery in demand that began in the second quarter was reversed to an extent, however, in December, as "weekday curfews and full weekend lockdowns" weighed on domestic travel options.
Looking ahead, Pegasus notes signs of traffic bouncing back in January 2021 and says its base scenario is achieving 90% of pre-crisis capacity in the third quarter of this year, and 70-75% for the full year, "depending on the evolution of Covid-19 and travel restrictions".
The carrier offers no guidance on its financial outlook, "due to continuing uncertainty".
Indeed, amid the financial challenges created by the pandemic, Pegasus states that it is "continuously working to bolster liquidity", with €30 million raised in February 2021 through "an inaugural corporate bond issue for local qualified investors".
The carrier's net debt was €1.58 billion at the end of 2020, up from €846 million at the end of 2019.
It ended 2020 with cash and equivalents of €426 million, but notes that its "positive cash reserve after deducting short- and long-term bank loans stands at €143 million as of the [end of the fourth quarter of 2020] compared to €231 million at the end of [the third quarter]".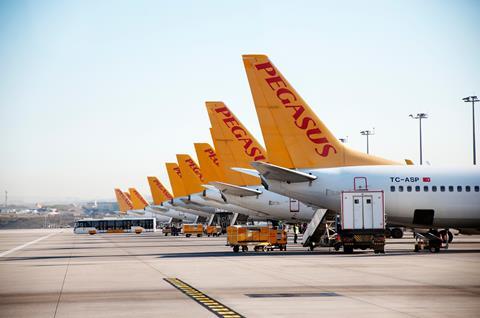 At end-2019, its cash and equivalents stood at €652 million.
With cash burn continuing in the fourth quarter, costs for the full year were 42% lower at €809 million on revenue down 64% year on year at €630 million.
And despite the respite offered by its ability to serve a large domestic market, revenue from international services still outpaced domestic income across the year, at €242 million versus €156 million – down 73% and 53% respectively. Ancillary revenues made up the vast majority of the remaining income at €213 million – down 54% year on year.
Yields on domestic services across the 12 months were some 4% lower on domestic routes, and were 23% down on international services.
As intra-Turkey services became a focus amid swingeing international travel restrictions, August and September 2020 saw Pegasus' domestic capacity measured in ASKs exceed 2019 levels year on year, albeit passenger numbers were some 14% and 21% lower respectively. By December, domestic capacity was still largely flat with third-quarter figures, but passenger numbers had halved from the August high to around 600,000, as Covid-19 cases rose and local restrictions were imposed.
In fleet terms, the carrier expects to end 2021 with 92 aircraft – essentially flat with its end-2020 level of 93 aircraft.
It plans to take delivery of six Airbus A320neos and two A321neos this year, while four Boeing 737-800s have been sold to Air Lease and will leave its fleet.