Philippine Airlines has gained approval from a local court for a petition to formally recognise its Chapter 11 bankruptcy protection process in the USA .
The carrier's parent company PAL Holdings in a 29 October statement confirmed local news reports that the Pasay City court granted the airline's petition, which it filled in late-September.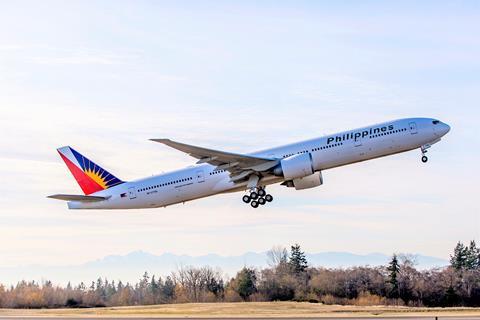 According to local media reports, presiding judge Wilhelmina B Jorge-Wagan says the court's recognition of the US proceedings will not affect the rights of creditors in the Philippines to "commence or continue a rehabilitation or liquidation proceeding".
In its statement, PAL Holdings confirms the judge's comments, and adds: "PAL strongly believes, and does not expect, that there will be any proceedings to be initiated by creditors because of the pre-arranged nature of the case. It is to be noted that there had been no objection recorded from the creditors in both the US Chapter 11 and Pasay Court cases."
PAL in early September filed for bankruptcy protection in New York, amid mounting financial woes exacerbated by the coronavirus pandemic.
The airline's restructuring plan aims to provide over $2 billion in permanent balance sheet reductions from existing creditors and allows the airline to consensually contract fleet capacity by 25%. It also includes $505 million in long-term equity and debt financing from PAL's majority shareholder and $150 million of additional debt financing from new investors, the plan states.
On 14 October, Filipino tycoon Lucio Tan — already a majority shareholder in PAL Holdings — announced he was extending nearly Ps12.8 billion ($252 million) in fresh funds for the company, by way of a private placement.