Pilot availability is still limiting the size of American Airlines' operation, through the carrier says it has ramped up pilot training to accommodate its planned 2023 fleet expansion.
American aims this year to increase its active-service fleet by 32 large jets and to hire about 2,000 pilots, the airline's executives said on 26 January.
The pilot shortage has particularly hammered American Airlines Group's regional-aircraft operations, which includes subsidiaries Envoy, PSA Airlines and Piedmont Airlines.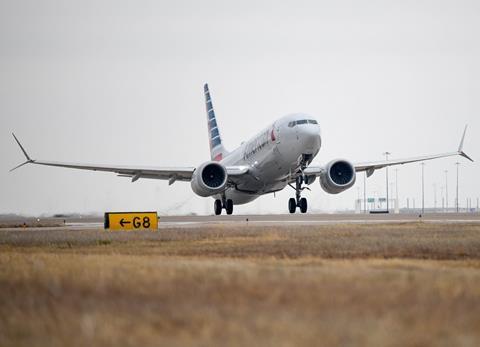 "At American right now we have an issue with regional aircraft, and some problem with mainline aircraft… It's largely about pilot constraints," says American chief executive Robert Isom.
"It's just a shortfall in pilots. We didn't attract people into the business for a couple of years," he adds.
The problem also stems from pilots leaving American.
The airline, like competitors, trimmed its pilots ranks early during the pandemic via early-retirement and temporary leave programmes.
Isom says 900 pilots retired in 2022, and that about that same number will likely retire this year.
But American has also taken steps to address the problem, including by significantly hiking the starting pay of pilots at its regional subsidiaries.
Isom says American is now "going through the greatest training cycle of pilots that we have ever experienced," and that its shortage of pilots for large mainline jets should ease in 2023.
The airline has "stabilised the pilot ranks" at its regional division, but that operation will continue suffering from a pilot shortfall for "a couple of years", Isom adds.
Meanwhile, the airline continues its fleet expansion.
In the fourth quarter of last year, American received seven new Airbus A321neos, five 787-8s and three Embraer 175s, and moved five already acquired 737 Max 8s into service from long-term storage, says chief financial officer Derek Kerr.
The airline will receive another 23 new aircraft in 2023 and move another nine 737 Max 8s from storage to active service, he adds.
The 23 expected new aircraft include two A321neos, 17 737 Max 8s and four 787-8s. American will purchase the incoming A321neos and 737s but lease the four 787s, Kerr says.
He also notes that the 17 incoming 737 Max are fewer than the 27 American had been scheduled to receive under purchase agreements with Boeing. The manufacturer's 737 deliveries have been delayed due to production disruption caused by supply chain and labour shortages, Boeing has said.
American expects to begin receiving more 787-9s in 2024, Kerr adds.