Porter Airlines is the first Canadian carrier to require employees be vaccinated against Covid-19 or present a negative test result.
The Toronto-based airline says workers must show proof of compliance as of 8 September, when Porter intends to resume operations following an 18-month shutdown, the airline says on 18 August,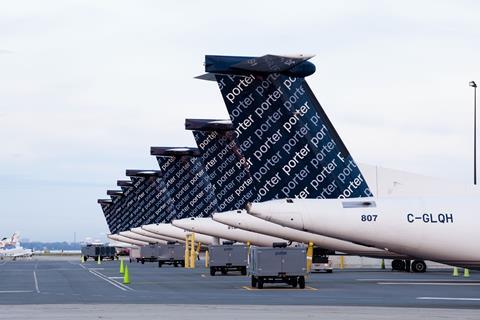 "We have a responsibility to ensure a safe workplace. With vaccines readily available for everyone in Canada and the US, and their proven effectiveness, requiring vaccination or regular testing is a critical measure to protect the health of our team members," says Porter chief executive Michael Deluce. "We are providing a testing option to ensure that personal circumstances are accommodated."
On 13 August, the government of Justin Trudeau said it will require all air, rail and marine passengers be fully vaccinated against Covid-19 by the end of October. Airline crews and other federally regulated transportation workers will also be subject to the federal vaccination requirement.
Those who are "unable" to be vaccinated must be regularly tested in order to mitigate the spread of the highly contagious virus, and will be dealt with on a case-by-case basis, Canada's ministry of transport said at the time.
Porter says it is "also supports the government's plan to require full vaccination for all air travellers"
Days earlier, Canada introduced plans to launch a digital vaccine passport for citizens and permanent residents that will simplify travel and could be available in the coming weeks.