Canadian carrier Porter Airways has rolled out new fare bundles and several other product updates, including available fresh meals – changes the company says make its economy class the industry's best.
Disclosed by Porter on 6 December, the updates coincide with the airline's pending acquisition of new Embraer E195-E2s.
The company has said it will receive its first of those before year end. They will add to Porter's fleet of De Havilland Canada Dash 8-400 turboprops.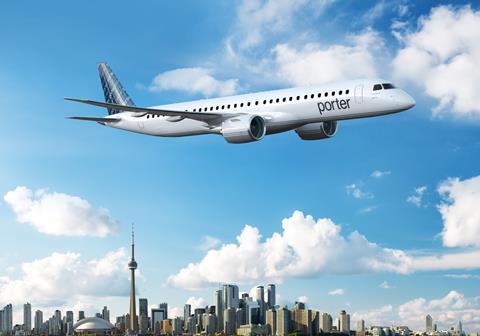 Porter currently sells four ticket types, bare-bones "Basic", "Standard", "Flexible" and, with all the bells and whistles, "Freedom". Its aircraft have only economy class seats.
Porter will soon overhaul that structure by offering two new overarching ticket products: PorterClassic and PorterReserve.
PorterClassic will be its "traditional economy", while PorterReserve will be a new "all-inclusive economy" product, the airline says.
Customers purchasing PorterReserve tickets will have access to separate airport check-in areas, the option to board early and increased-legroom seats.
On incoming E195-E2s, those seats will have 36in of pitch and be located in the first four rows; on Dash 8s, they will be in the first two rows and have 32in of pitch, Porter says.
PorterReserve customers will also get "fresh meals on longer flights". The tickets include two checked bags and have no change fees.
Porter will begin selling the new fares "in the coming days" when it reveals the first destinations it intends to serve with E195-E2s, the airline tells FlightGlobal.
"Porter conducted significant market research across Canada to fully understand what economy passengers want," Porter says.
The carrier began flights in 2006 using Dash 8-400s and has long marketed itself as providing a higher level of service than competitors, such as by offering free alcoholic drinks.
The airline primarily operates from Billy Bishop Toronto City airport, close to Toronto's downtown. It operates 29 Dash 8s, according to Cirium data.
For years, Porter planned to supplement those with Airbus A220s, banking on Toronto to make runway improvements at Billy Bishop needed to allow A220 operations.
That runway project languished amid community opposition.
Porter ultimately cancelled its A220 orders and instead ordered 195-E2s in July 2021. The company intends to begin flying the E-Jets from Toronto Pearson International airport, and also to Halifax, Montreal and Ottawa, it says.
Porter holds orders for 50 E195-E2s, according to Cirium. The carrier has said it expects to receive its first of those before year end.