India's SpiceJet has incurred more than Rs6.7 billion ($89.6 million) in costs from the year-long global grounding of the Boeing 737 Max.
Taken together with the impact from the coronavirus outbreak, which has dented passenger travel demand, SpiceJet saw losses widen for the year ended 31 March.
The low-cost carrier reported an annual operating loss of Rs9.3 billion, a near three-fold year-on-year increase from fiscal 2019, when its operating losses were around Rs2.4 billion.
Revenue for the year rose 42.5% to Rs132 billion, but was outpaced by increases in expenses, which saw a year-on-year rise of 48.8% to Rs141 billion.
SpiceJet reported a net loss of Rs9.3 billion, which was higher than what the net loss of Rs3 billion it posted last year.
On the 737 Max grounding, SpiceJet, which has begun legal proceedings to seek compensation from Boeing, says it has recognised about Rs1.34 billion towards aircraft and supplemental lease rentals and other expenses for the quarter ended 31 March.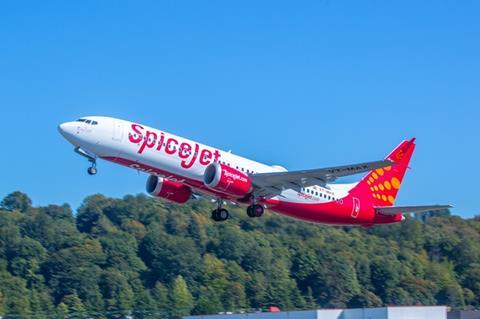 Nonetheless, it is "confident" of collecting compensation incurred, from the airframer.
The carrier operates a fleet of 13 737 Max 8s, and has a massive order backlog for the narrowbody. Cirium fleets data indicates it has 123 Max 8s on order, alongside 20 Max 10s and another 12 aircraft of unspecified variant.
The carrier has been cautious about when the narrowbody will be able to return to service, stating that a "likely return to service of the Max in the first quarter of [calendar year] 2021 [will] be a big boost", as it adds operational efficiency to its fleet.
The coronavirus outbreak, which started impacting travel demand from February, also affected the carrier's profitability for the year.
SpiceJet chief Ajay Singh says: "Despite the year-long grounding of the Max aircraft, SpiceJet ran a profitable operation till [Covid-19] hit demand from mid-February."
The impact of the pandemic was most felt in the fourth-quarter earnings, which SpiceJet released on the same day.
For the quarter, it swung deep into the red, reporting an operating loss of Rs8.2 billion, a contrast to the Rs725 million profit it posted a year earlier.
Expenses for the quarter ballooned 55% year on year to Rs38.7 billion, led by depreciation costs and foreign exchange losses. Comparatively, revenue for the period rose 18.5% to Rs30.5 billion, led by up an uptick in cargo revenue.
SpiceJet reported a net loss of Rs8.2 billion for the quarter, compared to a net profit of Rs725 million the year before.