Qantas will acquire compatriot Alliance Aviation in a A$614 million ($445 million) deal that will see the national carrier gain a foothold in charter operations for the country's resources industry.
The move, disclosed on 5 May, will see Qantas issue new stock to acquire the remaining 80% of Alliance it does not own at A$4.75 a share. The deal, which is subject to shareholder approval from both carriers, values Alliance Aviation at A$919 million, including debt.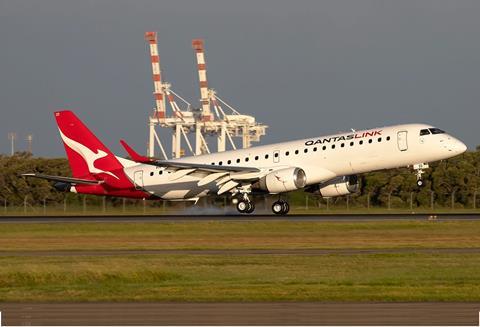 Qantas expects the acquisition process to "take a minimum of several months to secure", given the number of approvals required. If completed, Alliance would become a wholly-owned Qantas subsidiary.
Qantas and Alliance are already in an existing partnership, which sees the latter operate a fleet of 18 Embraer E190s for regional unit QantasLink.
It also operates a fleet of Fokker aircraft, including 24 F100s, 13 F70s and five Fokker 50 turboprops, which it uses mainly for 'fly-in-fly-out' charter operations for Australia's mining operations.
Qantas group chief Alan Joyce says of the deal: "The resources sector continues to grow and any new tender for airline services will be very competitive. It makes a lot of sense for us to combine with Alliance to improve the services we can offer, which is a positive for both airlines as well as the travelling public."
Adds Alliance managing director Scott McMillan: "There is strong industrial logic for Alliance to be part of the Qantas Group. The transaction combines the parties' complementary fleets and operations, allowing for more efficient and sustainable services and crew as well as fleet maintenance synergies, resulting from the ability to cross cover scheduled and non-scheduled maintenance."
The proposed acquisition is expected to be closely watched by Australia's competition commissioner, which had previously raised concern over Qantas' acquisition of a 20% stake in Alliance in 2019. Subsequently, the Australian Competition and Consumer Commission did not take any action against either company.
Rival Virgin Australia, which Alliance operates wet lease flights for, is also likely to weigh in on the proposed acquisition.