Qantas has called up five additional Alliance Aviation Embraer E190s under a wet lease agreement with the regional operator.
The move comes under the auspices of a February 2021 deal under which Qantas wet least three Alliance E190s, with options for an additional 11 aircraft.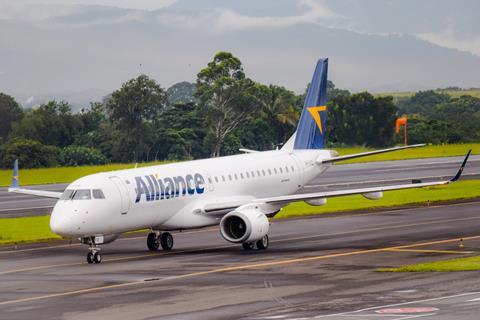 The first three aircraft will commence operating on Qantas's behalf on 25 May, while the additional five will start work form 21 June. Each option is for an initial three-year period, and the remaining six options are still in place.
"This is an exciting development for Alliance and further extends on previous wet leasing arrangements that Alliance has had with Qantas," says Alliance managing director Scott McMillan.
"The extension of the arrangements with Qantas is also further confirmation that the E190 is the perfect aircraft to take advantage of the new route network that is developing in the post-Covid aviation recovery."
The E190s will be based in Adelaide, providing capacity to the Qantaslink regional network.
In February, when the deal was first announced, Qantas said the arrangement would help it meet a domestic tourism boom in the absence of international travel.