Middle East carrier Qatar Airways has struck a revived codeshare deal with Oneworld partner American Airlines, two years after the US carrier ended their co-operation.
American and Qatar initially began codesharing in 2013. But the partnership came under strain amid a growing subsidy row between the US majors and Gulf carriers.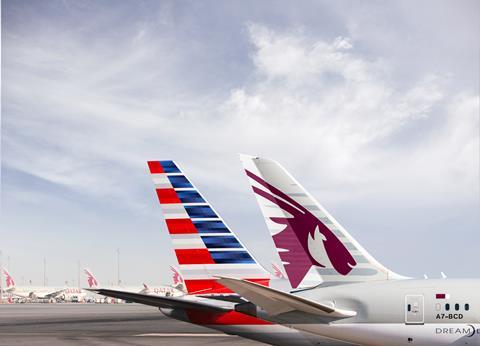 While tensions over the latter were eased by an agreement between Qatar and the USA over open skies, the row reignited over Qatar Airways' involvement in Air Italy. US majors voiced concerns that Qatar, a 49% shareholder in Air Italy, was using the smaller carrier as a proxy to expand in the USA - a charge rejected by Qatar.
Notably, announcement of the restored American-Qatar partnership comes two weeks after shareholders decided to put Air Italy into liquidation. While Qatar had made clear it was prepared to continue its investment, it said it could not do so without the support of remaining shareholders.
"We have moved on from past issues and look forward to working closely with American Airlines to build a world-leading partnership for all our customers," says Qatar group chief executive Akbar Al Baker. "This agreement will harness our complementary strengths and resources and enable more customers to experience Qatar Airways' award-winning product quality."
American chief executive Doug Parker says: "The issues that led to the suspension of our partnership two years ago have been addressed and we believe resuming our codeshare agreement will allow us to provide service to markets that our customers, team members and shareholders value, including new growth opportunities for American Airlines.
"We look forward to the renewed cooperation between our airlines and hope to build an even stronger relationship with Qatar Airways over time."
The codeshare agreement will allow Qatar passengers to travel on American domestic flights departing Boston, Chicago, Dallas, Los Angeles, Miami, New York JFK and Philadelphia, as well on international flights to and from Europe, the Carribean, Central and South America.
American passengers will be able to book travel on all Qatar flights between the USA and Qatar, and beyond, to a range of destinations in the Middle East, Africa and Asia.