Indian low-cost carrier GoAir has filed a prospectus with the Indian Capital Markets authority for a planned market listing and is rebranding as Go First.
The Wadia Group-owned airline has filed details for a planned IPO aiming to raise up to Rs36 billion ($489 million).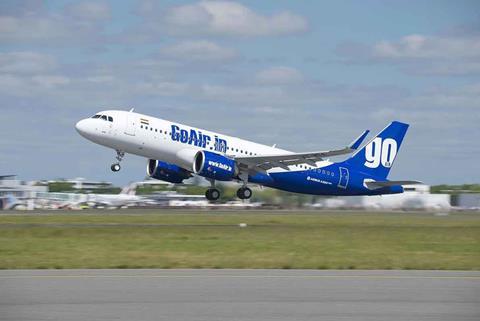 It envisages using more than half the proceeds to repay "certain outstanding borrowings" to reduce its indebtedness and improve its debt-equity ratio.
Further funds are earmarked to replace letter credits currently issued to certain aircraft lessors relating to future payments with cash deposits, and to repay the Indian Oil Company for dues owed relating to the supply of fuel, as well as for general corporate purposes.
Domestic carriers aside from Indigo Airlines have largely struggled for profitability in the highly competitive Indian market, even before the Covid crisis.
Financial data released in support of the IPO shows GoAir made a loss in its last three financial years, including a Rs12.8 billion loss for the year ending March 2020. Figures for the pandemic-hit nine-months to December 2020 show a further loss of Rs4.7 billion on sharply reduced revenues.
In its prospectus, GoAir highlights the strength of its ultra-LCC business model and its pre-pandemic growth which saw it increase passenger numbers from 10.8 million in 2018 to 16.2 million in 2020. It says this model is supported by its single aircraft fleet of Airbus narrowbodies, comprising largely A320neos. It also highlights an established position at slot-constrained airports in the country including Mumbai and New Delhi.
The airline in March recruited Ben Baldanza, the former long-time chief executive of US ultra-LCC Spirit Airlines, as its vice-chairman to further develop its ultra-LCC model.
"Our target customers are young Indians and micro, small and medium enterprises (MSME) businesses, and we believe our product and service offerings are uniquely attractive to these large and growing segments of the Indian population," GoAir says in its prospectus. "In light of the above, our company is now poised for its next phase of growth as a ULCC.
"Towards achieving this objective, we have re-branded our airline to 'Go First'," it says. "We believe that our new brand will better reflect our customer acquisition strategy of targeting young Indian leisure and MSME travellers which is our largest customer base."
As of the end of March the airline had a fleet of 55 aircraft, including 46 A320neos and nine A320ceos. It is taking eight more Neos in the current financial year, though its fleet will only rise to 60 as three A320ceos will be phased out.
A further 14 A320neos are scheduled for delivery in 2023 and 2024, while it expects to phaseout all its A320ceos by fiscal year 2024.
GoAir says the balance of 64 Neos in its order book will be delivered from fiscal 2025 onwards.