Lufthansa Group carrier Swiss International Air Lines is to end the short-time working for all staff brought in to counter the pandemic and is to begin recruiting new cabin crew.
Swiss embarked on a major restructuring under which staff levels were reduced by around one-fifth by the end of 2020 and its fleet cut by 15%.
The carrier has over the winter been operating at a little over 50% of pre-crisis capacity, but plans to steadily increase its activities this year and expects to be operating around 80% of pre-crisis capacity by the third quarter.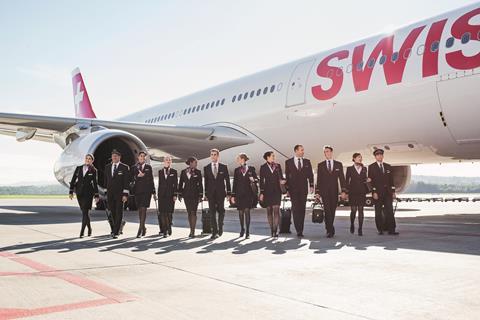 "Despite the financial ramifications, it has decided to end its present short-time working at the beginning of March for all its ground and cabin personnel," Swiss says.
The airline adds it is "keen to offer its employees new perspectives" and will open up some training opportunities again.
Swiss head of human resources Christina Trelle says: "Our short-time working has played a vital and substantial part in getting us through this unprecedented crisis. We're hugely grateful for that. And we're delighted that we can now offer exciting new prospects and perspectives again to our employees, in the air and on the ground."
The airline is also planning to recruit cabin crew in the triple-digit range after seeing more staff leave than expected due to voluntary retirements, the mandatory Covid vaccination programme introduced last autumn, and staff turnover – which it says contrary to expectations, has not fallen.
Swiss also says that more than half of the Zurich- and Geneva-based cabin crew members who left Swiss under its restructuring will be returning to the company from April onwards.