Malaysian long-haul, low-cost operator AirAsia X has further bolstered efforts to build its cargo revenues under its restructured business model with a belly-space utilisation deal covering a third of its Airbus A330-300 fleet with the logistics venture of Capital A, formerly AirAsia Group.
AirAsia X has emerged from a major financial restructuring with a business plan putting a greater emphasis on the booming cargo market. As part of the strategy, a response to both the strong freight market since the pandemic as well continued travel restrictions in Asia-Pacific, AirAsia X is aiming for cargo operations to account for at least 40 to 50% of its revenues.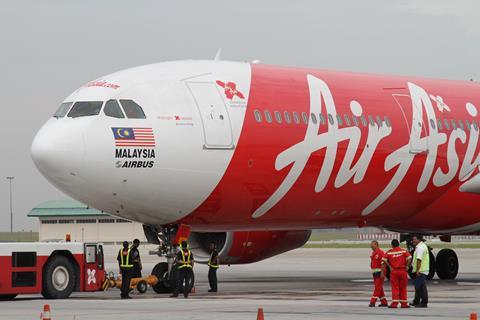 It has now secured the full belly space utilisation for one-year period from Capital A's Teleport. "We are happy to work closer with [AirAsia X] on their A330 fleet as an integral cargo carrier," says Teleport chief operating officer Adrian Loretz.
"In addition to our dedicated 737-800 freighter, the added A330 aircraft from AAX allows us to provide more capacity access for our customers to serve the demand in the region while operating from our main hubs in Kuala Lumpur and Bangkok."
It marks a second recent cargo contract secured by AirAsia X after a deal with logistics firm Geodis.
AirAsia X chief executive Benyamin Ismail says: "We are also in discussions with several other major global clients that have air cargo requirements, particularly to where we have established bases and flying rights. It's just two months post our restructuring and the appetite for expansion of our cargo operations is significant.
"This dovetails neatly into one of the core pillars of our combination carrier strategy. For the foreseeable future, cargo revenue will underpin our route strategy and passenger revenue for the first time, will be ancillary."
The airline though is set to resume scheduled passenger flights today, operating services to Sydney.