Southwest Airlines reported a profit of $277 million in the third quarter thanks to "robust" demand for discount air travel, says chief executive Bob Jordan on 27 October.
The airline also reports third-quarter operating revues of $6.2 billion, a company record for the three months ending 30 September.
The Dallas-based airline's recent financial performance has been "right in line" with its projections, reflecting a steady recovery from the Covid-19 pandemic, Jordan said during Southwest's third-quarter earnings call: "It really speaks to the more stable environment that we're operating in today versus where we were just two quarters ago."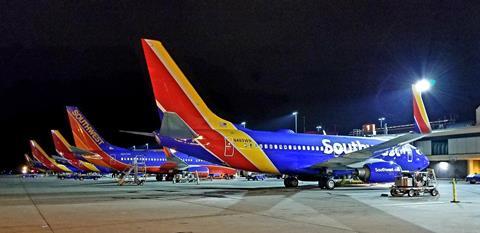 Southwest maintains a strong outlook into the first half of 2023 as demand for air travel shows no signs of slowing.
"Bookings appear strong as far as we can see," Jordan says. "Demand trends – both volumes and yields – are robust. … We do not intend to republish or materially change our future flight schedules, as was necessary during most of the pandemic."
But the airline may face significant obstacles in the medium term. The most critical factor in the restoration of Southwest's full network is the pilot shortage, Jordan says.
"I don't expect that we will be fully utilizing the fleet until late 2023," he notes.
Southwest has added 10,000 new employees in 2022, including 1,200 pilots, and intends to add another 2,100 pilots in 2023.
The airline is also anticipating aircraft delivery delays from Boeing, which has been lagging behind schedule on production for its 737 Max programme due to supply-chain issues and uncertainty surrounding certification of the Max 7. Southwest now expects to receive only 66 new 737 Max 8 jets of the 114 that Boeing is contracted to deliver this year, says chief financial officer Tammy Romo.
In response, Southwest will retire fewer 737s this year than it had intended. The airline plans to retire 26 737-700s and end the year with 768 aircraft in its fleet.
Southwest ended third quarter 2022 with $13.7 billion in cash and short-term investments, down from $16 billion on the same date last year.