Scoot chief executive Campbell Wilson is to step down from the SIA Group low-cost unit in mid-June to head newly-privatised Air India.
Wilson will be replaced as chief executive at Scoot by Leslie Thng, who formerly headed SIA's Indian joint venture carrier Vistara. SIA's partner in Vistara is Indian conglomerate Tata Sons, which took control of Air India in January.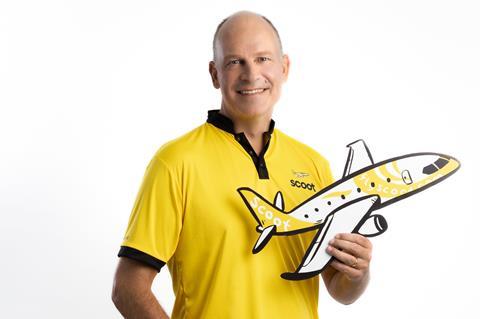 In a stock exchange filing on 12 May, SIA says Wilson's last day at the low-cost carrier will be on 15 June, before he moves to Air India.
The 50-year-old was the founding CEO of Scoot between 2011 and 2016, before he returned to SIA to head the airline's sales and marketing team. He also had experience running SIA's overseas operations in Canada, Hong Kong and Japan.
Tata Sons had initially named former Turkish Airlines chairman Ilker Ayci as its incoming chief. However, Ayci turned down the role two weeks later, reportedly citing "attempts to colour my appointment with undesirable colours" by some quarters of the local media.
Thng will move from his current role as senior vice president for sales and marketing, a position he held since the start of the year. The 47-year-old was Vistara's chief executive between October 2017 and December 2021, and was Scoot's commercial chief before that.
Thng also helmed now-shuttered regional unit SilkAir from 2012 to 2016.
Of Wilson's departure, SIA Group chief Goh Choon Phong says: "Campbell is one of our most experienced senior executives, who has made many important contributions in key management roles within the SIA Group. While we are sad to lose him, he goes to Air India with our full blessings."
"Scoot is an integral part of our portfolio of airlines, and we are confident it will emerge stronger and retain its leadership position in the low-cost market segment with Leslie at the helm," Goh adds.