South Korean start-up carrier Aero K received its air operator's certificate for international and domestic air transport operations on 28 December.
The airline was evaluated between October 2019 and December 2020, and the AOC was granted within the two-year validity period from when it received a business licence in March 2019, the Ministry of Land, Infrastructure and Transport (MOLIT) said in a 28 December statement.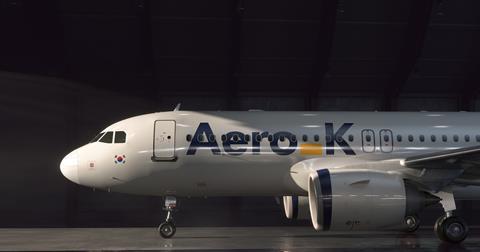 Aero K can commence operations after the necessary procedures, which includes obtaining a route permit.
The company's finances were evaluated for its AOC application, given the ongoing global pandemic.
According to MOLIT, Aero K held W48 billion ($44 million) capital in March 2019, when it applied for a business licence, which along with plans for a capital expansion were deemed sufficient for its operations.
The ministry states: "As a result of reviewing [Aero K's] plan for [ensuring] financial soundness including the paid-in capital increase plan submitted by Aero K [to the relevant authorities], it was evaluated that additional capital expansion (more than W10 billion) in progress and sales after the commencement of operation could cover operating expenses such as labour, lease and maintenance for a certain period of time."
MOLIT adds: "In order for Aero K to [become] a competitive airline, the role of local governments and other communities is also very important."
Cirium fleets data shows that Aero K has two Airbus A320ceo aircraft in its existing fleet, fitted with CFM International CFM56-5B engines. The older, nearly 14-year-old jet was formerly operated by Alaska Airlines and Virgin America, while the younger aircraft was delivered new to Aero K in September 2019.
The start-up placed an order for eight A320ceos in March 2017 but eventually cancelled most, months after its application for a business licence was rejected at the end of 2017.