Sky Regional airlines will cease operations after Air Canada transferred all of its Air Canada Express flying to Jazz Aviation, according to numerous reports in Canadian media.
The carrier, which flew 25 Embraer 175 jets for the legacy carrier, will be shuttering on 31 March.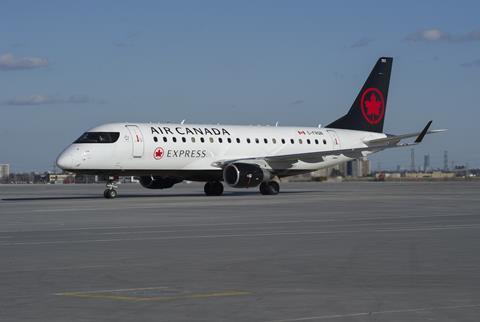 "Despite a very successful 10-year relationship, Air Canada has advised us that they have made the difficult decision to terminate our capacity purchase agreement as of March 31, which will result in the transfer of our 25 Embraer aircraft to Air Canada," the company's chief executive Russ Payson says according to the reports.
"Sadly, as a result, we will be forced to shut down our operations, despite our many adjustments in the face of the various travel restrictions imposed by governments, thus far without any sector-specific support."
Several emails to Sky Regional were not answered.
According to the carrier's website, it employs "over 650 people in Toronto and Montreal".
On 1 March, Air Canada had said it intended to transfer the operation of 25 E175s from Sky Regional to Jazz Aviation, making Jazz the sole operator of Air Canada Express flights. The Montreal-based carrier said the consolidation was due to the coronavirus-driven crisis in Canada's air transport industry.
The change remains subject to approval by Jazz's pilot union, the Air Line Pilots Association, International (ALPA), Air Canada said.
With the shift, the airline will save up to C$400 million ($316 million) over the course of 15 years – C$43 million annually until 2026 and C$18 million annually thereafter.
Of the 25 E175s to be transferred, 16 are in service and nine are in storage, according to Cirium fleets data.
Jazz parent Chorus Aviation says that with the acquisition of the jets, it will be phasing out its 20 De Havilland Canada Dash 8-300s.