US regional carrier SkyWest Airlines reported a small profit for the third quarter as it experienced increased demand for its services.
Net profit at the St. George, Utah-based carrier came in at $9.7 million, as revenue rose to $745 million during the three months that ended on 30 September.
That's up 63% from $457 million during the same period in 2020, but still slightly below the 2019 revenue figure of $760 million, the company says on 28 October.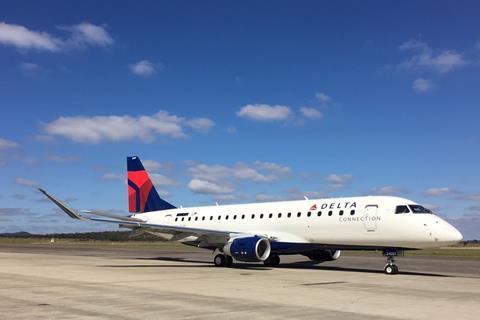 Adjusted for a non-cash impairment charge on SkyWest-operated MHIRJ CRJ900 aircraft, the airline reports a net profit of $73.6 million. The airline says those aircraft will be replaced by new Embraer E175 aircraft in 2022 and 2023 and are not expected to be extended under the existing flying contract.
"We continued to see strong demand for our product during the third quarter," says chief executive Chip Childs. "We are excited to place 45 new E175 aircraft into service in the next 18 months and remain focused on our long-term strategy as we continue navigating the pandemic."
The carrier, which operates under fixed contracts for United Airlines, Delta Air Lines, American Airlines and Alaska Airlines, ended the quarter with 486 aircraft in its fleet, up from 478 at the end of the second quarter, and 448 at the end of the third quarter of 2020.
Total block hours rose 67% to 370,462 from 222,561, and the airline transported 10.9 million passengers during the third quarter of 2021.
In July, the carrier said it will place 18 E175s with American in the second half of the year, and two more in 2022. They will enter service in 2022. It will also deliver nine of the type to Alaska Airlines in the next two years.
In August, SkyWest announced the purchase of 16 Embraer E175 aircraft for Delta, with deliveries anticipated in 2022. Those will replace 16 MHIRJ CRJ900s currently under contract with Delta.
For American, SkyWest placed two used CRJ700s in service during the third quarter 2021 and anticipates placing eight more in the fourth quarter, and 11 more in 2023. The carrier says it will have 101 CRJ700s in service with American by mid-2023.