US air cargo company Atlas Air Worldwide made $126 million during its fourth quarter of 2022 and $356 million for the full year – "one of the best years in Atlas' history", chief executive John Dietrich said on 23 February.
The freight hauler's results were down from 2021, however, amid lower demand for air cargo. The company made $177 million during the same three months of 2021. Atlas' yearly profit was also down compared with the $493 million it made last year.
Atlas flew more than 33,300 fewer block hours in the fourth quarter "primarily due to the impact of severe winter storms", it says.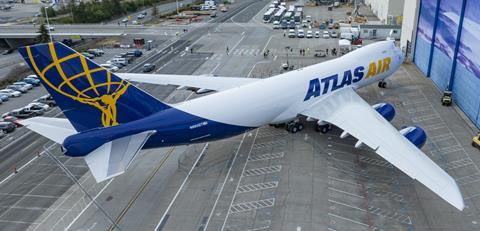 Atlas' yearly profit was also down compared with $493 million in 2021.
The company generated $1.2 billion of revenue in the three months ending 31 December and $4.5 billion for the full year, compared with $1.2 billion and $4 billion in 2021.
Atlas attributed its lower fourth-quarter income to higher pilot costs "related to higher overtime pay driven by operational disruptions, including an abnormal increase in severe weather events, as well as higher crew travel costs related to higher commercial passenger airfare rates".
"[Airline] segment contribution was also adversely impacted by lower aircraft utilisation and yields (net of fuel), primarily driven by lower market demand, the severe weather events noted above, and decreased passenger flying for the AMC," Atlas says.
Purchase, New York-based Atlas is expecting to complete in the first quarter of 2023 its acquisition by an investor group led by Apollo Global Management, which would de-list Atlas from the Nasdaq stock exchange, and therefore did not host a fourth-quarter earnings call. Atlas shareholders approved the acquisition in late 2022.
"At this time, we are awaiting final approval from the US Department of Transportation and have received all other required shareholder and regulatory approvals," Atlas says of the pending deal.
Operating a fleet of Boeing 747s, 767s and 737s, Atlas purchased five of its existing 747-400Fs at the end of their leases during 2022. Continuing the trend, Atlas reached an agreement during the fourth quarter of 2022 with one of its lessors to purchase a 747-400F at the end of its existing lease term. Atlas expects to complete acquisition of the aircraft by April 2023.
In January, Atlas took delivery of the last-ever production 747, which "will serve the air freight market for decades to come," Dietrich says.
"We are pleased that we placed all eight of our new and incoming aircraft under long-term contracts," Dietrich says. "All four new [Boeing] 747-8Fs and the first of four 777s have been delivered and are operating for strategic customers under attractive long-term agreements."
All four of Atlas' new and incoming 777-200s are under contract with MSC Mediterranean Shipping. Atlas expects delivery of the three additional 777s this year.