South African carrier Comair will initially operate 15 aircraft across its two airline brands when it restarts flights from 1 December.
Comair says a reintroduction of domestic flights by low-cost unit Kulula is to serve as the "first phase" of its "ramp-up to full operations over the next few months".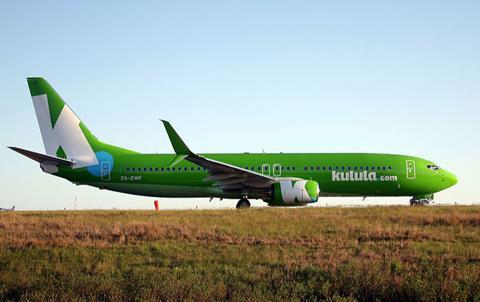 Domestic and regional flights operated under the British Airways franchise are reopening "soon", says Comair, as are Kulula services from Lanseria.
Comair entered business rescue in early May amid rising debt levels from a fleet-renewal programme, exacerbated by the grounding of the Boeing 737 Max and the Covid-19 crisis. In September, a consortium comprising seven named individuals and an investment vehicle, Luthier Capital, agreed a rescue deal to acquire 99% of the airline.
Prior to the pandemic, Comair had been operating a fleet of 27 aircraft, which has been reduced to 23 during the business-rescue process. Its restructuring plan envisages the fleet eventually being restored to 25 aircraft, including two 737 Max jets.
The airline foresees the initial 15 aircraft "gradually increasing as the remainder of the fleet returns to service over the next few months".
Cirium fleets data shows that Comair has 13 737-800s and five 737-400s in storage, and one 737-300 in service. It has one Max 8 in storage and seven on order.
"We are excited to be returning to the skies and with competition being restored in the domestic market, the flying public can once again expect to achieve low airfares," states Glenn Orsmond, a representative of the Comair rescue consortium.