Three South Korean low-cost carriers remained in the red for for the first quarter of the year amid slower recovery, though a revenue uptick helped narrow their losses.
With a limited domestic market to operate in, travel curbs still in place for international travellers, as well as limited cargo capabilities, the three carriers – Jin Air, Jeju Air, as well as T'way Air – were unable to swing to profitability, unlike their larger full-service compatriots.
Korean Air sister carrier Jin Air posted a W46.4 billion ($36.5 million) operating loss for the three months to 31 March, compared to the W60 billion loss incurred in the same period of 2021.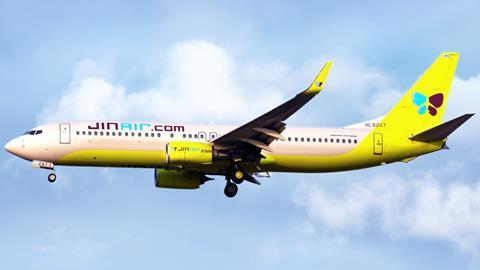 Quarterly revenue rose 54% to W67.5 billion, helped by an increase in domestic passenger earnings. The carrier saw domestic traffic in the quarter rise 15% year on year, with capacity increasing 16%.
International passenger revenue, meanwhile, remained tepid, as South Korea still imposes testing requirements for arriving passengers. Jin Air says international revenue only makes up 3% of total revenue in the quarter.
Costs, meanwhile, rose 10% to nearly W114 billion, led mainly by a rise in fuel costs. The carrier cut its net loss for the period, from last year's W72 billion to W31 billion in the current quarter.
Jeju Air, meanwhile, was W78 billion in the red at the operating level. While this was an improvement against 2021's W86 billion operating loss, it is a steeper loss compared to the fourth quarter of 2021, where the airline was W67 billion in the red.
Revenue for the quarter rose 96% year on year to W80.8 billion, with passenger revenue twice the level reported in 2021's first quarter.
The carrier flew close to 1.7 million passengers in the quarter, which was a 39% rise year on year. However, compared to pre-pandemic 2019, it is barely half the number of passengers flown.
Jeju Air posted a net loss of W64.9 billion, compared to the W78 billion loss reported in 2021.
As for T'way Air, it posted a W38.8 billion operating loss in the quarter, narrowing the W45 billion loss in 2021's first quarter.
Revenue for the period rose 69% to W59.7 billion, as the airline reported an slight rise in passenger traffic. T'way reported a net loss of W39.3 billion, compared to the W49 billion in 2021.