Southwest Airlines is suffering a near collapse of its operations, cancelling the majority of its flights on 26 December following several days of extreme winter weather.
The Dallas-based airline scrubbed 2,907 flights today – 71% of its total scheduled operations, according to flight tracking site FlightAware. Several hundred thousand passengers are likely affected.
"We have made the decision to continue operating a reduced schedule by flying roughly one third of our schedule for the next several days," Southwest says on 26 December.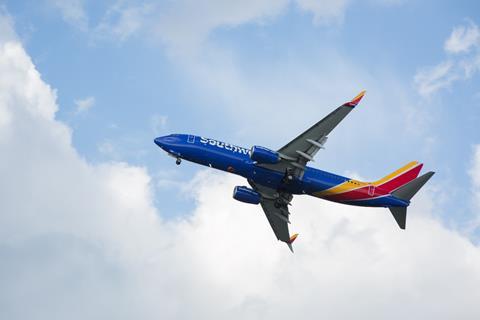 The degree of the meltdown was sufficient to prompt a warning from the US Department of Transportation (DOT), which earlier this year undertook a campaign to urge airlines to strengthen their disruption-prone operations.
Southwest says the cancellations come as it works to recover from winter weather that in recent days hammered much of the USA with high winds, snow and frigid temperatures.
"With consecutive days of extreme winter weather across our network behind us, continuing challenges are impacting our customers and employees in a significant way," Southwest says. "We're working with safety at the forefront to urgently address wide-scale disruption by rebalancing the airline and repositioning crews and our fleet."
Social media users posted pictures and videos of resulting airport chaos, with passengers waiting in interminable lines amid seas of wayward luggage.
"US DOT is concerned by Southwest's unacceptable rate of cancellations and delays, [and] reports of lack of prompt customer service," the agency says. "The department will examine whether cancellations were controllable and if Southwest is complying with its customer service plan."
The DOT had asked airlines to improve their operations following widespread disruptions last summer due to factors including shortages of pilots.
Southwest operates more flights than any airline anywhere in the world – some 3,800 daily flights, according to Diio airline schedules data.
Other US airlines suffered high cancellation rates in recent days amid challenging weather. Delta Air Lines, for instance, cancelled 268 flights (9% of its operation) on 26 December, while United Airlines nixed 137 flights (5%) and Alaska Airlines cancelled 133 flights (17%), according to FlightAware.
But no carrier has seen its operation thrown into the extreme disarray currently playing out at Southwest. The cancellations affect airports nationwide, and some reports say Southwest is unable to book affected passengers on other flights until the coming weekend. Calls to Southwest's reservations line resulted in an automated error message.
The reasons behind Southwest's outsized trouble remains unclear, but some reports say lack of crews are playing a role.
Southwest says it was "fully staffed and prepared for the approaching holiday weekend when the severe weather swept across the continent".
"These operational conditions forced daily changes to our flight schedule at a volume and magnitude that still has the tools our teams use to recover the airline operating at capacity," Southwest adds.
The trouble marks a major test for Southwest's new chief executive officer Bob Jordan, who took the top post from former longtime head Gary Kelly in February.