A class-action lawsuit has been filed on behalf of shareholders of Southwest Airlines based on allegations that the company downplayed the potential for its ageing crew-scheduling software to derail its nationwide operations.
Filed by Klein Law Firm in US District Court for the Southern District of Texas on 12 January, the lawsuit alleges that Southwest violated federal securities laws by continuously downplaying or ignoring "serious issues with the technology it used to schedule flights and crews and how the company stood to be affected worse than other airlines in the event of inclement weather".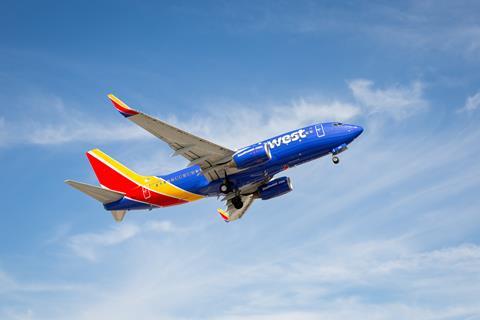 Southwest's decades-old crew-scheduling software proved a liability from 21-31 December 2022, when the Dallas-based carrier was forced to cancel more than 16,700 flights because the system lost track of crews and aircraft amid a fierce winter storm hammering much of the USA. Rebooting the computer system and resuming normal operations took days, disrupting the holiday plans of hundreds of thousands of air travellers.
In addition to downplaying the vulnerability of its crew-scheduling system, Southwest "did not discuss how its unique point-to-point service and aggressive flight schedule could leave it prone in the event of inclement weather", Klein argues in its lawsuit. "As a result, defendant's statements about Southwest's business, operations and prospects were materially false and misleading and/or lacked a reasonable basis at all relevant times."
Klein specialises in securities litigation involving financial fraud. The firm lists Southwest Airlines, former chief executive Gary Kelly, executive vice-president Tammy Romo and current CEO Bob Jordan as defendants and demands a jury trial.
The suit's class includes plaintiffs who purchased Southwest securities from 13 June 2020 to 31 December 2022 – during which period, the lawsuit alleges, Southwest's quarterly earnings reports and year-end statements "ignored the serious risk that having outdated technology posed to the company's business" and "did not disclose the company's internal control issues".
Michael Santoro, vice-president of the Southwest Airlines Pilot Association (SWAPA), told FlightGlobal during a 27 December interview that the union has long urged senior management to update the airline's software systems.
"We need them to seriously invest in the IT infrastructure and scheduling software because our network is complex; we're not a hub-and-spoke system, we're point-to-point," he said. "But they've known that for years and we've had a meltdown every year for the past five or six years. They need to invest in software that can completely track flight attendants, pilots and airplanes at all times. Until they do that, we could have this problem happen again."
Southwest has hired consulting firm Oliver Wyman to conduct an assessment of its disastrous year-end performance, the airline said in a 16 January letter to customers signed by Jordan. "We are currently budgeted to spend more than $1 billion of our annual operating plan on investments, upgrades and maintenance of our IT systems," the letter reads. "The recent disruption will accelerate our plans to enhance our processes and technology."
The airline's holiday meltdown has been a major early challenge for Jordan, who assumed the chief executive position in February 2022. Southwest is under intense scrutiny from federal regulators and lawmakers alike, with 15 Democratic senators signing a 13 January letter demanding Jordan to explain the carrier's performance during the 2022 holiday season. The letter notes that Southwest cancelled more than 7,500 flights from 27-29 December while other major US airlines cancelled a combined 1,077.
The Dallas-based carrier estimates it lost between $725 million and $825 million due to the operational meltdown, and now anticipates a net loss for the fourth quarter of 2022.