Southwest Airlines lost $220 million during the fourth quarter of 2022 after it was battered by a system-wide meltdown during the busiest travel days of the end-of-year holiday season.
"Due to the operational disruptions in late December, which resulted in more than 16,700 flight cancellations, we incurred a fourth-quarter pre-tax negative impact of approximately $800 million (or approximately $620 million on an after-tax basis), which resulted in a fourth-quarter 2022 net loss," Bob Jordan, the Dallas-based airline's chief executive, said on the company's fourth quarter earnings call on 26 January.
The carrier had been "on-track to produce a healthy fourth-quarter profit" before the calamity hit on 21 December in the form of a hefty winter storm that disrupted travel across the country for several days. While other airlines quickly moved on from the weather event, Southwest's crew scheduling system broke down, leading to the airline working just a fraction of its capacity through 31 December.
Its fourth-quarter operating revenue was negatively impacted by approximately $410 million due to the so-called "irregular operations", Southwest says.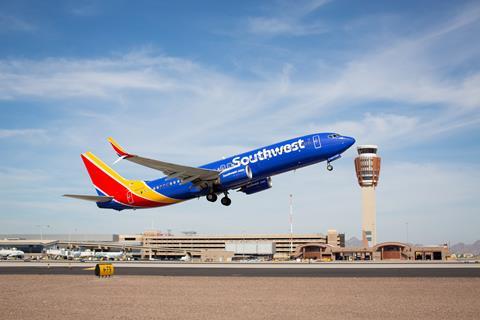 "We have swiftly taken steps to bolster our operational resilience and are undergoing a detailed review of the December events," Jordan adds.
The company's board of directors has established an operations review committee in the wake of the meltdown, and Southwest says it is having consulting firm Oliver Wyman conduct a third-party review. The airline is also setting new priorities for technology and other investments in 2023.
Executives say they are planning to invest $1.3 billion this year in "ongoing support of the technology infrastructure", including upgrades and maintenance of IT systems, Jordan says.
"We still made tremendous progress in 2022, and still have a solid plan for 2023," he adds. "We will attack this head-on. Whatever we need to work on, we will work on with a sense of urgency. We will boost our spending on technology if we need to. We will do everything to double down to make sure this does not happen again. It's critical."
As for customer refunds stemming from the outages, the company says it has completed about 80% of requests received, and plans to finish the rest by "the end of next week".
For the full year 2022, the company posted a profit of $539 million, still far from the $2.3 billion it earned in pre-pandemic 2019.
Revenue for the fourth quarter came in at $6.2 billion. During the full year of 2022, the company achieved sales of $23.8 billion. But higher expenses – especially for jet fuel and salaries – ate into those figures, coming in at $6.6 billion and $22.8 billion, respectively.
Southwest is also planning for a first-quarter 2023 loss, as issues stemming from the meltdown have dragged into the new year. However, bookings are rising again for March, when the traditional spring break travel season begins. The company expects revenue to be up 20-24% for the first three months of the new year.
"The first quarter is a tale of two halves," says chief commercial officer Ryan Green. In the wake of the hangover from the irregular operations at the end of December "it's been difficult to get real traction". But for the February Presidents' Day long weekend and beyond March, the airline's loads and yields "look like we are on plan", he adds.
As an all-Boeing 737 operator, Southwest has a significant order book with Boeing for its Max aircraft. In December, the company converted four of its 737 Max 7 orders to Max 8 orders. In addition, in January the airline exercised 10 Max 7 options for delivery in 2024.
As of 26 January, Southwest had firm orders of 192 Max 7s, 235 Max 8s, and options for 137 Max 7s or 8s, the company says. Currently it has 766 airframes in service and 42 in storage, according to Cirium fleets data.
The Max 7 has not yet been certificated by the Federal Aviation Administration.