Southwest Airlines estimates losing between $725 million and $825 million due to its nationwide operational meltdown over the busy end-of-year travel period, and warned investors that it anticipates a net loss in the fourth quarter of 2022.
The Dallas-based carrier cancelled more than 16,700 flights from 21 December to 31 December, according to a 6 January report Southwest filed with the US Securities and Exchange Commission (SEC).
Southwest's losses include between $400 million and $425 million in lost revenue, with the remainder coming as the result of "increased operating expenses" – that is, travel expense reimbursements for disruptions, the value of points provided to affected customers, and overtime pay and additional compensation for employees, the airline says.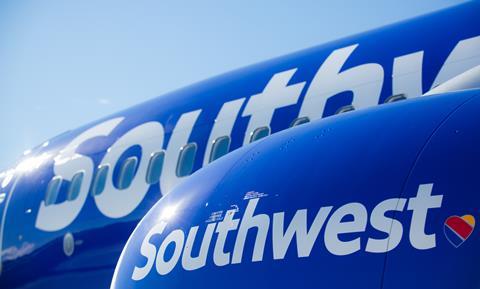 Southwest's catastrophic holiday travel period began when a fierce winter storm hit the Midwest and Northeast USA in the busy days before Christmas, and the situation snowballed thanks to decades-old software that lost track of the location of flight crews and aircraft, according to the Southwest Airlines Pilot Association.
On 27 December, Southwest chief executive Bob Jordan acknowledged that the airline's fleet and crews were out of position in "dozens of locations". He promised to fix the IT issues that plagued Southwest during the holiday rush and that the company's customers and employees would "never again face what's happening".
Though the airline has since resumed normal operations, the episode has drawn the ire of US regulators and lawmakers and Southwest has suffered a public relations disaster as hundreds of thousands of passengers were left stranded, frustrated and angry.
As a result of the widespread disruptions, the airline's fourth-quarter capacity is estimated to have declined 6% as compared with the same period in 2019, the last year unaffected by the Covid-19 pandemic.
The company reported a profitable third quarter on 27 October 2022, posting income of $277 million and revenue of $6.2 billion – a company record for the three months ending 30 September.