Southwest Airlines has recalled all flight attendants who had taken long-term voluntary leave as the airline prepares for a faster-than-expected recovery in domestic air travel demand.
The Dallas-based carrier says on 8 April that 2,700 flight attendants will return to work on 1 June.
Last week, Southwest also recalled 209 pilots who had taken extended voluntary leave. They will also return on 1 June and complete re-qualification training requirements prior to resuming duties.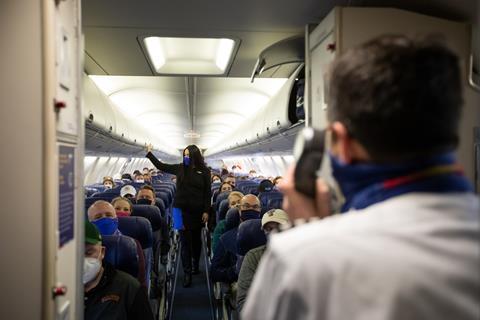 "The intended flight attendant recall, as with the recent pilot recall, is to position Southwest for planned flight increases in the summer schedule," the airline says. "The flight increases are based upon the improvements in leisure travel demand which the airline recently reported."
In March, chief executive Gary Kelly said the airline's cash burn was slowing and that Southwest might reach break-even cash flow by June thanks to exploding demand for leisure travel following the coronavirus-pandemic downturn.
Southwest lost $3 billion in 2020, its first full-year loss since 1972, ending a 47-year streak of profitability.
The carrier's move comes a week after legacy carrier Delta Air Lines cancelled more than 100 flights during the busy Easter long weekend due to staffing shortages. Though most US airlines have smaller fleets than they did prior to the pandemic, they are all scrambling to get staff current with training requirements and back into their aircraft, as US travellers begin to book in greater numbers.
Southwest Airlines reports first-quarter earnings on 22 April.