Southwest Airlines has earned its first quarterly profit since 2019, as demand for low-cost fares climbed in the last three months of 2021.
The Dallas-based discount carrier turned a $68 million profit in the fourth quarter of last year, reversing a $908 million loss in the same period of 2020, Southwest reports on 27 January.
For the full-year 2021, the company earned a $977 million profit – thanks to almost $3 billion in pandemic-related payroll support from the US government. Without that aid, and accounting for other special items, Southwest would have lost $1.3 billion.
It was Southwest chief executive Gary Kelly's 134th and final earnings report, as the airline veteran prepares to retire in the coming weeks. He has been at Southwest for 36 years, about half of those as chief executive, and will hand the airline's reins to incoming CEO Robert Jordan. Kelly will remain Southwest's executive chairman.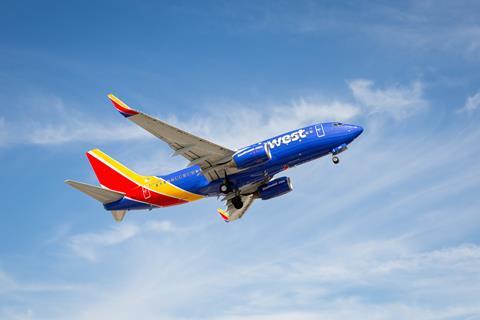 Southwest's revenue during the quarter more than doubled year-on-year to $5 billion. It reports full-year revenue of $15.9 billion, up from $9 billion in 2020.
"We ended 2021 on a high note, with our first quarterly profit, excluding special items, since fourth quarter 2019 – before the Covid-19 pandemic began. Leisure travel demand was strong, particularly during the holidays, and business revenues continued to recover compared with 2019 levels," Kelly says.
Incoming CEO Jordan adds the carrier had a "challenging start to 2022".
"While we made significant progress in 2021, the Omicron variant has delayed the demand improvement we were previously expecting in early 2022," he says. "With Covid-19 cases trending downward, the worst appears to be behind us, and we are optimistic about current bookings and revenue trends for March 2022."
Due to the highly-contagious variant and weather-driven delays and cancellations, Southwest expects losses in January and February and a return to profitability in March 2022, Jordan adds. Earlier this month, more than 5,000 employees were sidelined with the virus, though that number has since declined to about 100-150 per work group.
"Based on our current plan, while we no longer expect to be profitable in first quarter, we expect to be profitable for the remaining three quarters of this year, and for full-year 2022," Jordan adds.
Revenue for the first quarter is expected to come in 10% to 15% lower than in the same three months of 2019, with a load factor of 75-80%.
"What we experienced in 2021 is very humbling," Kelly says. "A year ago, I would never have bet this is where we would be… Where do we think we will be with the pandemic two years from now?"
He speculates the industry could be "dealing with this for 10 years".
FLEET
Southwest expects to end the first quarter of 2022 with 727 aircraft, with the fleet increasing to 814 by year-end. Capacity measured in available seat miles (ASMs) will still be down 4% from 2019 figures, it predicts.
The company expects to "substantially grow available seat miles" and restore "the majority" of its route network by the end of 2023.
Boeing has told Southwest it intends to have the 737 Max 7 certificated by the end of the first quarter, says Southwest chief operations officer Mike Van de Ven. However, the type will likely not be flying in the Southwest fleet until next year.
According to Cirium fleets data, the company has 248 orders for that version of the Max, which Southwest will use to replace 737-700s.
"Once they get a type certificate, we are planning on about seven months to get that airplane on our operating certificate," he says. "We have a lot of flexibility on that order book, Boeing is being a very good partner, we expect to take 114 airplanes at this point, but we may not be flying the Max 7 until early 2023."