All four of IAG's major airlines returned to the black in 2022, a year in which its Spanish carriers Iberia and Vueling came closest to matching pre-pandemic operating profitability.
Iberia posted an operating profit of €383 million ($406 million), the highest by volume and nearing the €497 million the Madrid-based network carrier made in 2019. Iberia's fourth quarter profit was 18% higher than the same period in 2021.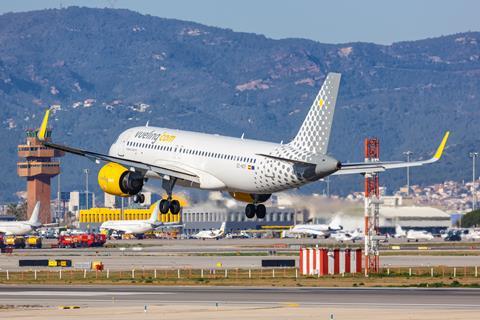 IAG's low-cost unit Vueling recorded a profit of €187 million, within €53 million of its pre-pandemic performance. The Spanish carrier also led the way on restoring capacity within the group: it flew above pre-pandemic levels in all but the first quarter and was at 98% of 2019 capacity for the full year.
By contrast British Airways, the most profitable operator within IAG before the crisis, flew 70% of pre-pandemic capacity last year and was still at 80% of 2019 activity in the fourth quarter. BA did contribute the second highest operating profit by volume at €303 million, and was the most profitable IAG unit in the fourth quarter. However BA's full-year profit remains well below the €1.89 billion it made in 2019.
Irish carrier Aer Lingus made an operating profit of €45 million for 2022. IAG does not report results for its small low-cost unit Level, which has so far only restored half of its pre-pandemic capacity.
Overall IAG group operating profit stood at €1.26 billion for the year – compared with a loss of €2.76 billion in 2021. IAG also booked a net profit of €431 million for the year, turning around a loss of almost €3 billion in 2021. That was achieved on group revenues of €23 billion, almost treble 2021 levels.
IAG chief executive Luis Gallego says: "2022 was a year of strong recovery, driven by sustained leisure demand and markets reopening. At this point of the year we continue to see robust forward-bookings, while also remaining conscious of global macro-economic uncertainties."
IAG is projecting an increase in operating profit for 2023 before exceptional items of between of €1.8 billion to €2.3 billion. It expects most of that improvement to come in the first half and is guiding for a reduced operating loss of around €200 million in the first quarter. The group lost €731 million at the same stage in 2022.
The airline group expects overall capacity to increase to around 98% of pre-crisis levels next year, having ended 2022 at 87% and 78% for the year as a whole. IAG sees all its carriers except BA operating above pre-crisis levels in 2023.