India's SpiceJet expects to complete the divestment of its logistics platform SpiceXpress by 1 October, paving the way for the latter to commence operations as a separate entity.
Shedding more light the divestment — first disclosed during its quarterly financial results — the low-cost carrier says the deal is valued at Rs25.6 billion ($345 million), based on independent valuation of the logistics business.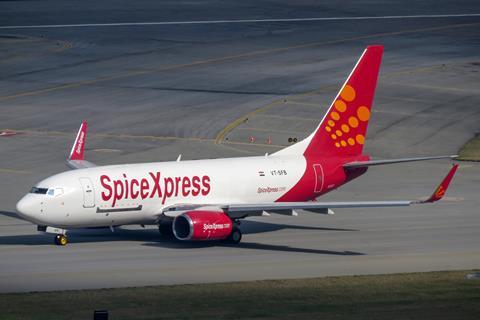 SpiceJet will transfer its cargo and logistics services — "along with all related assets and liabilities, including know-how, trademark, licenses, franchises, customer contracts, [as well as] distribution network" — to SpiceXpress and Logistics.
The deal will be subject to shareholder and possible regulatory approval, the airline adds.
"It is expected that SpiceXpress will operate as a separate entity upon transfer of business on or around October 1, 2021," it states.
SpiceJet chief Ajay Singh said during the airline's first-quarter results release that the move will "unlock significant value for SpiceJet and its shareholders."
"This will also allow SpiceXpress to raise capital to fuel its rapid growth," Singh said.
While SpiceXpress will operate separately, SpiceJet says it will continue to "provide certain transportation services, ground and logistics support, management services, sharing and provisioning of resources etc. to SpiceXpress".
SpiceJet saw its net loss for the first quarter of its 2022 financial year widen to Rs7.29 billion, compared with Rs5.9 billion a year earlier.
Total revenue for the three months ended 30 June rose 79.6% to Rs12.7 billion, as the carrier operated more capacity, but this was offset by India's second wave of coronavirus infections, which hurt demand.
Cargo was the sole bright spot, generating revenues of Rs4.7 billion, more than double that of a year earlier. SpiceXpress reported a net profit of Rs300 million in the first quarter.