Spirit has delayed its special shareholder meeting to vote on an acquisition bid by Frontier Airlines for the third time.
The Miramar, Florida-based ultra-low-cost carrier says on 7 July that the meeting, which was to have taken place on 8 July, will be pushed back by one week, to 15 July.
The vote was originally scheduled for 10 June, then for 30 June.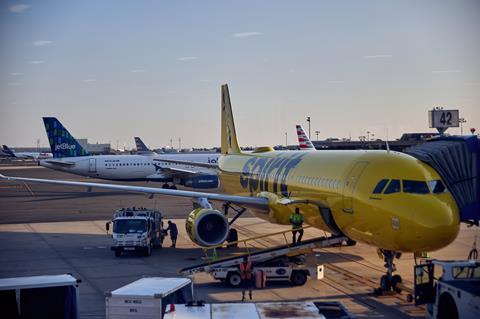 "Spirit Airlines today announced that it intends to reopen and immediately adjourn its special meeting of stockholders relating to the proposed merger agreement with Frontier Group Holdings… to allow the Spirit board of directors to continue discussions with Frontier Group Holdings, Inc. and JetBlue Airways Corporation," the company says.
"There will be no voting or other matters conducted at the meeting on July 8, 2022, and the company intends to reconvene the special meeting on July 15, 2022 at 11:00am ET," the company adds.
Frontier Airlines did not comment on the move.
JetBlue, meanwhile, says that its offer remains "superior".
"We are encouraged by our discussions with Spirit and are hopeful they now recognize that Spirit shareholders have indicated their clear, overwhelming preference for an agreement with JetBlue," the New York-based airline says. "We strongly recommend that Spirit shareholders continue to let the Spirit board know they want to receive the superior value JetBlue has proposed, by voting against the Frontier transaction."
The tug-of-war for Spirit airline began in February, when Denver-based low-cost peer Frontier and Spirit announced that they would combine forces through a cash-and-stock deal, creating the fifth-largest airline in the USA.
Two months later, JetBlue initiated a hostile all-cash takeover of the company with the intention of dismantling it.
Since then, the three airlines have been trading acidic barbs over a potential transaction, with JetBlue calling foul, and claiming Spirit did not give its offer the same attention as it had Frontier's. Both suitors have upped their bids to shareholders in recent weeks, and are now also offering reverse-termination fees in the case of an unsuccessful transaction.
Spirit's board of directors has repeatedly recommended shareholders vote for the Frontier offer and reject the JetBlue offer.
Earlier this week, Spirit beat out JetBlue for 16 slots at New York-area Newark Liberty International airport. The US Department of Transportation (DOT) awarded Spirit the hotly-contested slots in order to "secure low-cost service options" for passengers travelling to and from the region, and to improve competition, DOT said on 5 July.
Updates on 7 July to add statement from JetBlue Airways