Spirit Airlines says its flexible network and lower fuel and flight operations costs helped it weather the coronavirus storm in the second quarter, and expects the next months to continue to be volatile as the pandemic drags on.
The Miramar, Florida-based ultra-low-cost carrier reported a net loss of $144 million on 22 July, and says its operating revenue for the quarter fell 86.3% year-on-year, to $138.5 million.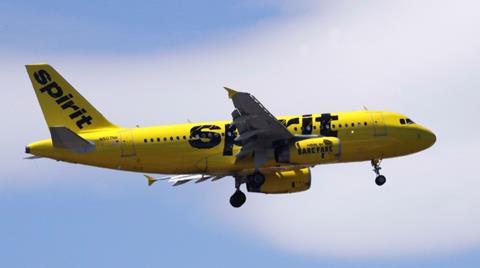 The airline's capacity between April and June was 83% lower than the same period a year ago. Load factors on those flights increased from just under 18% in April, near the beginning of shelter-in-place orders, to 79% in June, at the end of the quarter, when leisure customers were itching to leave home for their summer vacations.
Costs fell 61%, driven by a lower fuel price and reductions in other operations-related expenses due to the small volume of flights it operated at the height of the crisis.
The airline expects further instability in the coming months, and is predicting capacity will decline again in the third quarter. New spikes in virus infections in numerous states across the southern US including Florida, Arizona and Texas, where Spirit has a strong presence, are prompting potential customers to rethink their plans.
Coupled with the surge in infections come new travel restrictions for passengers arriving in New York and Chicago, the airline's most important northerly hub. The 14-day quarantine measures were put in place at the end of June to prevent a second wave of coronavirus illnesses in those regions. In the meantime they cover inbound and returning passengers from 31 states across the nation.
"The company estimates its capacity for July, August, and September will be down approximately 18, 35, and 45 percent, respectively, compared to the same periods last year," the airline says, meaning it will once again cut flights it recently reinstated. "For the third quarter 2020, capacity is estimated to be down 32 percent year-over-year. The situation remains very fluid and actual capacity adjustments may be different than what the Company currently expects."
Spirit's daily cash burn fell to $1.5 million at the end of the quarter, down from $9.5 million in April, says Scott Haralson, the airline's chief financial officer.
"As the health and financial impacts of the Covid-19 pandemic continue to unfold, we are making tactical changes to preserve cash while maintaining our flexibility to respond when leisure demand eventually recovers," he says. Based on current trends, cash burn will be between $3 million and $4 million for the current quarter, he adds.
On 30 June, the airline had 154 aircraft in its all-Airbus fleet, including nine A320neos that were delivered in the first half of 2020. Spirit says it has agreed with Airbus to defer 13 aircraft originally scheduled to be delivered this year and next year. The airline expects three more aircraft this year, and 16 in 2021.