Stobart Group has committed up to £9 million ($12 million) in short-term funding for Flybe as part of the Connect Airways consortium's investment to keep the struggling UK regional carrier flying.
Flybe's future has again been hanging in the balance as Connect Airways – which struck a deal to acquire the cash-strapped carrier a year ago – sought urgent talks with the UK Government.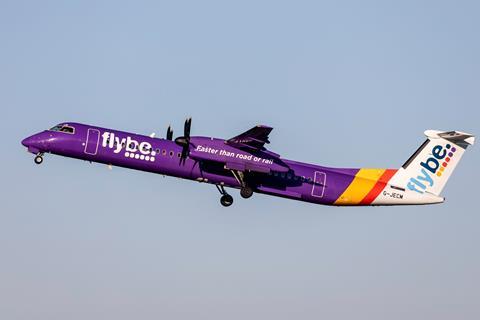 News of a deal emerged on 14 January when UK business secretary Andrea Leadsom said an agreement had been struck "to keep the company operating, ensuring that UK regions remain connected".
As part of that agreement, the government could defer millions of pounds owed by Flybe to cover its air passenger duty (APD) tax bill. The UK Treasury says that in the run-up to the March budget it will carry out a review of APD for all airlines "to ensure regional connectivity is strengthened while meeting the UK's climate change commitments to meet net zero by 2050".
Stobart Group, which holds a 30% stake in the Connect Airways consortium alongside Cyrus Capital (40%) and Virgin Atlantic (30%), has today in a stock market statement provided its first comment on the agreement.
"The Connect Airways consortium has worked tirelessly alongside Flybe and the UK government to look for solutions to ensure the financial viability of the airline so that consumers can continue to have confidence in flying with Flybe," Stobart says.
Alongside the goverment's review of air passenger duty and regional connectivity, it says the Connect Airways consortium has "committed to providing Flybe further short-term funding with Stobart Group contributing up to £9 million of capital, with the funds drawn down only if required".
It notes the shareholder consortium has to date provided £110 million of funds to Connect Airways, and Stobart Group has invested £45 million through a combination of cash and the sale of Stobart Air, Stobart Group's regional airline, and its aircraft leasing business, Propius.
While the consortium announced its intention to acquire the assets of Flybe in a cut-price deal last January, it did not receive European Commission clearance for the acquisition until July 2019.
"The delay in receiving control, coupled with a number of other factors including legacy issues, impacted on the delivery of the consortium's turnaround plan for Flybe," Stobart says. "This resulted in a situation in which a further injection of funds is required to ensure continued flying."