Delta Air Lines posted a pre-tax loss of $3.4 billion in 2021, though reached the black when accounting for extraordinary items including the US Government's payroll support programme.
The SkyTeam carrier, the first major airline to report financial results for the 2021 calendar year, posted an adjusted pre-tax profit of $398 million, including $4.5 billion of grant proceeds from the payroll support scheme during the year.
After taxes, Delta earned a $280 million 2021 profit.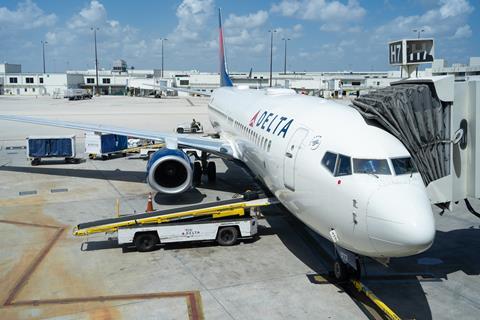 It marked a sharp improvement on the $9 billion adjusted pre-tax loss the group posted in its first pandemic-hit year in 2020. Delta had posted an adjusted pre-tax profit of $6.2 billion in 2019.
The carrier's nearly $30 billion in 2021 full-year revenue was still more than a third less than 2019 revenue.
The improved performance was helped by a fourth quarter in which Delta posted an adjusted pre-tax profit of $170 million. That excludes a hit of $564 million from adjustments in the quarter.
The airline says it ended December with revenue nearly 80% recovered to 2019 levels.
Delta chief executive Ed Bastian says: "While the rapidly spreading Omicron variant has significantly impacted staffing levels and disrupted travel across the industry, Delta's operation has stabilised over the last week and returned to pre-holiday performance.
"Omicron is expected to temporarily delay the demand recovery 60 days, but as we look past the peak, we are confident in a strong spring and summer travel season with significant pent-up demand for consumer and business travel."
Story updated on 13 January to include Delta's post-tax profit.