Turkish carrier Pegasus Airlines jumped back to the black last year in posting a record operating profit of €633 million ($674 million) driven by a more than doubling in revenues.
Pegasus revenues jumped from just over €1 billion in 2021 to €2.45 billion last year. That outstrips a previous revenues high of €1.74 billion in 2019. Notably, Pegasus revenue from international flights in the fourth quarter was more than double the same period in 2019.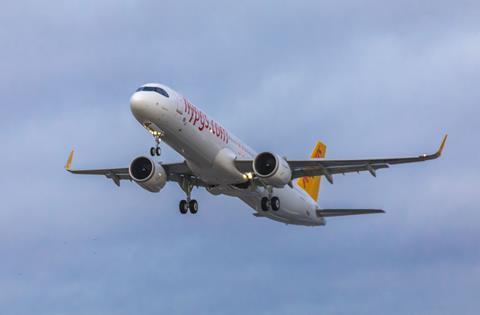 That was achieved even though passenger numbers of 26.9 million and load factors of 83.6% were both down on 2019's 30.9 million and 88.6% respectively. The improved revenue performance reflects longer average stage-lengths – Pegasus capacity was higher than in 2019 – and improved yields.
This helped Pegasus post a full-year operating profit of €607 million – including €197 million in the fourth quarter – compared with a loss of €19 million in 2021. It was also back to a net profit of €431 million for the year, turning round a loss of €150 million.
Pegasus expects to lift capacity a fifth for 2023 and to increase its fleet to 102 aircraft from 96 at the end of last year. That includes the further transition towards an all-Airbus fleet through the addition of A321neos. Pegasus is due to take 15 A321neos this year, adding to 25 already in the fleet, and a further 33 over 2024 and 2025.
It already has 46 A320neos as well as seven A320s, one of which will exit the fleet in 2023, while eight of its 18 remaining Boeing 737-800s are set to be withdrawn this year.