TAP Air Portugal has reported a third-quarter net loss of €119 million ($142 million), and expects to reduce its winter capacity by 60-70% year on year as Europe's second Covid-19 wave continues to heavily impact operations.
The loss compares with a €1.2 million net profit in the third quarter of 2019. For the nine months ended 30 September, the carrier made a net loss of €701 million, deepening one of €111 million a year ago.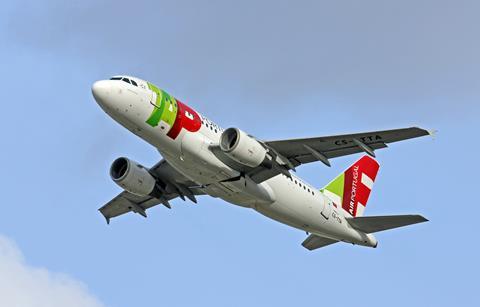 TAP's third-quarter operating loss of €183 million compares with a €129 million profit in the same period of 2019. Revenue plummeted 81% to €195 million, while operating costs were down 59% at €378 million.
Cash outflows relating to aircraft operating leases fell 43% in the third quarter, says the airline, "reflecting negotiations with lessors for payment deferrals and permanent lease reductions". For the full year, TAP expects these renegotiations to reduce operating lease outflows by about €175 million.
The airline plans to submit its restructuring plan to the European Commission on 10 December.
"This plan aims to ensure the sustainability and profitability of TAP through adequate planning of routes and fleet, adjusting the offer to the current market environment post-Covid-19," it says.
It ended the third quarter with 101 aircraft, including its regional fleet. It took delivery of two Airbus A321LRs during the period, and plans to retire two A320s and six A319s by the end of the year. TAP highlights the "importance" of the A321LR to its strategy amid "the current uncertainty and low-demand period", pointing out that the aircraft is cheaper to deploy on long-haul routes than a widebody.
TAP ended the third quarter with cash and cash equivalents amounting to €293 million. In September, the flag carrier received just under €500 million of its potential €1.2 billion state rescue loan from the Portuguese government.
The state has agreed to grant TAP an interest-bearing loan of up to €946 million, with the possibility of adding an extra €254 million. Earlier this year, the government invested €55 million to increase its stake in TAP from 50% to 72.5% to prevent the airline from going bankrupt.