Thailand's Asia Aviation is set to inject fresh capital into its low-cost airline unit Thai AirAsia, as part of a broader revised restructuring plan that will see significant changes to both companies' shareholding structures.
In a notice dated 19 October, Asia Aviation announced that it will raise around Bt3.9 billion ($117 million) in fresh capital for Thai AirAsia, by way of a loan facility extended by financial institutions.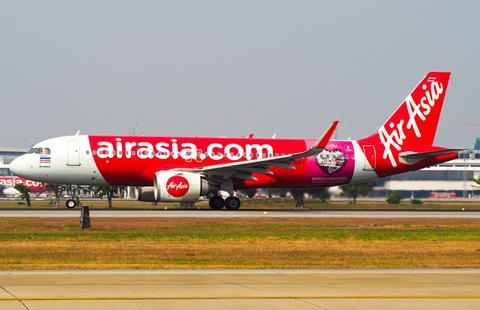 The amount will be used to pay off part of the trade debts owed to the AirAsia Group, which owns part of Thai AirAsia, says Asia Aviation. It adds that as at 30 June, Thai AirAsia owed the group close to Bt4.2 billion in trade debts.
The capital increase, which is subject to shareholder approval, will also see Asia Aviation up its shareholding in Thai AirAsia, from the current 55% to around 69%.
Concurrently, Asia Aviation will also embark on its own fundraising, through issuing new shares on a private placement basis. The company hopes to raise around Bt8.8 billion.
A large part of it — valued at around Bt7.8 billion — will be allocated to newly-formed AirAsia Aviation, which is the holding company for AirAsia Group's airline businesses. Six individual investors, who are not connected to Asia Aviation, will be allocated around Bt1 billion of new shares.
Asia Aviation will also raise more than Bt5 billion through convertible bonds, as well as a rights offering.
Taken together, the company expects to receive around Bt14 billion in funds, which it will then use to purchase all remaining shares in Thai AirAsia, making the airline a wholly-owned subsidiary.
Asia Aviation will have under three months to complete all fundraising activities, as it targets to wrap it up "within 2021". Company chairman Tassapon Bijleveld later says the new plan "is expected to be implemented within the first quarter of 2022".
It states that the coronavirus pandemic has had a "very negative impact" on Thai AirAsia operations, "especially…travel restriction measures implemented by the government".
The airline suspended domestic operations for more than a month from mid-July this year, as Thailand battled its worst wave of coronavirus infections.
While Asia Aviation has "attempted every possible avenue" to boost the airline's liquidity, a previously-drafted restructuring plan — approved in April — "proved to be complicated and time-consuming to plan".
Asia Aviation widened its operating loss for the quarter ended 30 June, with revenue decline outpacing cost reduction efforts. The company posted a Bt2.8 billion operating loss, compared to the Bt1.8 billion loss it reported in the same period in 2020.
Story updated with Thai AirAsia's comments on timeline.