Transat AT on 21 June announced the end of a special committee charged with reviewing takeover bids, adding that billionaire investor Pierre Karl Peladeau has withdrawn his offer to purchase control of the tourism provider due to lack of shareholder interest.
The Montreal-based parent company of Air Transat states Peladeau's firm Gestion MTRHP withdrew its cash offer to purchase Transat for C$5 ($4) per share. Transat shareholders expressed this was an insufficient bid based on the current share price of C$6.49, prompting Gestion to withdraw its offer.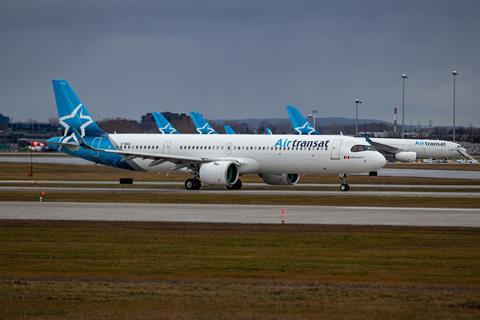 This ends the on-again, off-again discussions between Transat and Peladeau that span the past couple of years. The leisure carrier rejected a takeover bid from Peladeau in January, stating that he failed to demonstrate "committed financing" that could support the company during the coronavirus pandemic.
Real estate firm Group Mach had also offered to buy the company in 2019 prior to Transat's effort to secure a merger with Air Canada. Months after Air Canada withdrew its takeover bid in April amid regulatory scrutiny, Transat signals that its company is no longer for sale.
"Transat intends to focus its efforts on the implementation of its strategic plan and on the upcoming restart of its operations and flights, on July 30," the airline says.
Canada's federal government on 29 April made a C$700 million loan available to Transat through the Large Employer Emergency Financing Facility (LEEFF) programme to help it recover from the Covid-19 pandemic travel downturn, yet the leisure carrier is still considering other options.
"Transat also intends to examine possibilities to optimise its financing structure, which could include the issuance of shares of its capital or bond financing on more favorable terms than those attached to a portion of the liquidities made available to Transat under the Large Employer Emergency Financing Facility."
Canada's third-largest airline faces competition from WestJet and Air Canada but plans to operate a network of 50 domestic and international destinations starting in November.
Part of Air Transat's strategic plan is to simplify its fleet by increasing reliance on the long-range and fuel-efficient Airbus A321LR aircraft, for which it has eight firm orders, Cirium fleets data shows.
The carrier plans to phase out its three remaining A310s and retire its last Boeing 737-800 aircraft. The remainder of its fleet of 36 aircraft includes 16 A330s and 16 A321s.