Canadian leisure carrier Air Transat will suspend all flights on 1 April, while its parent Transat AT is laying off some 3,600 Canadian employees due to the coronavirus crisis.
The layoffs account for about 70% of the company's Canadian workforce and include "flight crew personnel", says Transat, which intends to halt operations until 30 April.
"Operations are being stopped gradually in order to enable Transat to repatriate as many of its customer as possible to their home countries," says the company.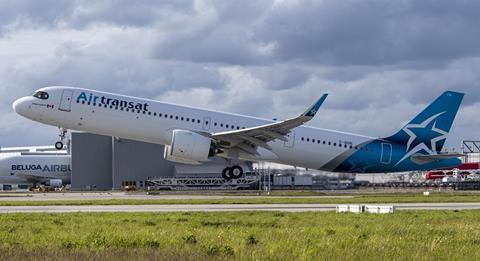 Since 18 March, Air Transat had brought some 40,000 customers back to Canada from Transat's destinations outside Canada. Some 25,000 customers remain outside the country, Transat says.
"Some of these layoffs are effective immediately, while others will take effect following advance notice of up to one month", the company says. "Similar measures are being implemented in the other countries where Transat has employees. Executives who are not being laid off have accepted voluntary pay cuts, as have members of the board of directors."
Canadian carriers Sunwing Airlines and Porter Airlines have also announced operational halts. The country's airline industry has requested government aid.
The coronavirus hit as Air Canada was preparing to close a planned purchase of Transat for C$720 million ($498 million). The companies had expected to close that deal around the middle of the year.