Turkish Airlines is continuing work on establishing its low-cost unit Anadolu Jet as a standalone operation, though has set no firm plans on a possible IPO for the carrier.
Airline chairman Ahmet Bolat was reported last year as saying it would consider IPOs and joint ventures as potential strategic options for Anadolu Jet and Turkish Cargo.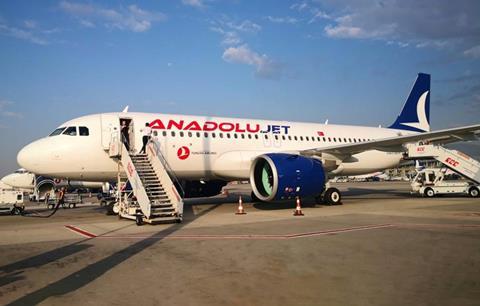 "We have the teams set up internally to work on both projects," said Turkish Airlines chief financial officer Murat Seker, asked about the plans during a full-year results call today. "We are not in a rush for either one, but Anadolu Jet might be a little earlier – depending on the fleet [plan] and [Istanbul] Sabiha Gokcen capacity increase. We have taken the preliminary steps to prepare both of our operations to serve as separate entities."
Turkish Airlines launched budget operation Anadolu Jet in 2008, establishing its presence at Sabiha Gokcen airport. Last year it flew a new high of 16.1 million passengers.
"Anadolu Jet started its international operations two years ago and it is increasing its fleet. It's reached the size of 64 aircraft in 2022 and this year it will reach 80 aircraft," Seker says.
"Separating it as a full-blown, low-cost carrier is not a straightforward task. It requires a new reservation system, which we have tendered recently. Its PSS [passenger service system] is going to be ready in about a year's time," he explains. "So we are taking the necessary steps to prepare it for carving it out, but we don't have a specific date. It's going to take more than a year before Anadolu Jet can serve it's own customers under its own roof."
He adds: "Cargo is less complicated, yet with the cargo operation we are still working on the right strategy to carve it out. There are pros and cons in either strategies. It is a little early to share details on it."