Soaring cargo revenue helped Turkish Airlines record an operating profit at group level for the second quarter of this year, amid signs that passenger traffic will soon begin a sustained recovery.
Reporting its results for the April-June 2021 period on 10 August, the Star Alliance carrier said higher cargo income of $941 million significantly compensated for depressed passenger revenue, which came in at $1.16 billion.
Pre-crisis in 2019, cargo only accounted for $393 million of the airline's second-quarter revenue, versus passenger income of $2.7 billion.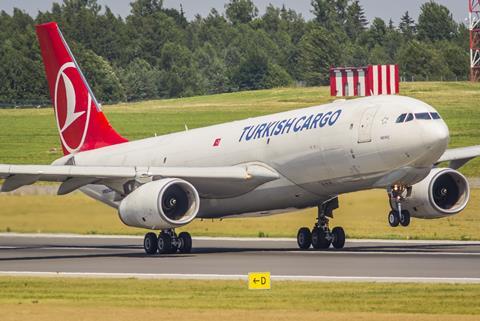 "The group foresees positive cash flows and high unit revenues for cargo operations will continue in 2021," Turkish Airlines says, noting that its cargo unit was serving 96 destinations with 26 freighters on 30 June this year, alongside 242 further destinations with its 346 passenger aircraft.
Passenger capacity measured in available seat kilometres meanwhile hit 56% of pre-crisis levels during the second quarter – 62% on domestic routes and 55% on international services – and is expected to reach 75-80% of pre-crisis levels in the current quarter.
"The group predicts passenger operations will be affected positively from the widespread use of Covid-19 vaccinations for the second half of 2021 and beyond," Turkish Airlines states.
Overall group revenue of $2.18 billion in the second quarter compares with $3.18 billion in the same period of 2019 and $901 million in 2020, when the first wave of the pandemic was grounding aircraft around the world.
A profit from operations of $114 million in the second quarter of this year is an improvement on the equivalent 2019 and 2020 figures of a $15 million profit and a $140 million loss respectively.
The group recorded a net loss of $62 million for the second quarter of this year, versus a net profit of $26 million in the same period of 2019 and a loss of $327 million in 2020.
For the first half of 2021, the group's net loss came in at $1 million, following a net profit of $61 million in the first quarter of the year.
Turkish Airlines' cash and equivalents amounted to $2.25 billion on 30 June, it says, up from $1.81 billion on 31 December 2020.
"Positive cash flow from operations… and the loans used thanks to the group's strong credibility contributed to increasing the cash levels," it says, adding that it "does not predict any important risk in terms of cash and equities as the adverse effects of the pandemic diminishes throughout time".
Meanwhile, agreements with the unions and suppliers "will enable [Turkish Airlines] to continue cost savings in employee and some other fixed costs".
The group notes that the postponement and cancellation of aircraft deliveries have had a "very positive impact" on its financing needs through to 2028. Among its actions in recent months, orders for 10 Boeing 737 Max jets were cancelled, alongside 40 orders for the type being turned into "options until December 2021". Deliveries of 13 Max aircraft have been rescheduled.
During the second quarter, Turkish Airlines took delivery of three 737 Max 8 jets, one 737 Max 9, five Airbus A321neos and one A350, the group says.
Turkish Airlines says that its long-term growth strategy is still based around boosting the number of transfer passengers at its Istanbul hub. It aims to achieve that through investments in its widebody fleet to increase its long-haul flying.