Three trade unions representing Lufthansa staff have sharply criticised the airline's planned new leisure subsidiary Ocean in a joint open letter to German chancellor Angela Merkel.
Vereinigung Cockpit, UFO and Verdi – which respectively represent pilots, cabin crew and service-sector workers – are calling for government intervention ahead of the project's proposed launch in the spring of 2021.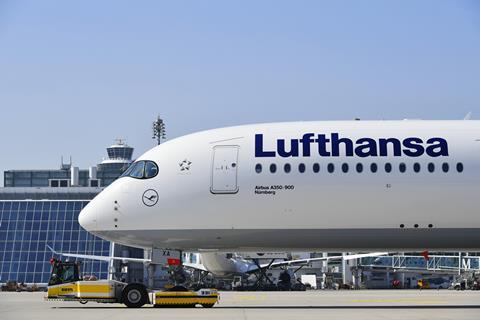 They accuse Lufthansa of using state aid to launch the new unit with staff uncovered by collective labour agreements while thousands of employees are being made redundant elsewhere.
In June, Lufthansa Group disclosed plans to cut 22,000 full-time positions, and it has since indicated that the number is likely to increase. Chief executive Carsten Spohr said at the virtual World Aviation Festival on 25 September that the group's objective was to preserve at least 100,000 of the approximately 135,000 staff employed before the crisis. He acknowledged that "many, many people will have to leave".
UFO chief Daniel Flohr states: "In the slipstream of the crisis, the group is trying to realise its long-cherished Ocean project in another attempt to create jobs without trade-union influence… this time, however, with state money. Because without the taxpayer's money, the company would be bankrupt."
Earlier this year, Lufthansa Group received a €9 billion ($10 billion) financial support package from the German state, which took a 20% shareholding in the company.
Flohr describes Lufthansa's Ocean launch plan as "brazen" and "indecent".
UFO was the only union with which Lufthansa reached agreement on savings ahead of seeking shareholder approval for the state-aid package in late June. The airline reached a deal with the pilot union in August, but has been at loggerheads with Verdi.
Vereinigung Cockpit's head of collective bargaining policy, Marcel Grols, argues that "state aid is there to save jobs" and that "the obvious main motive behind Ocean's establishment is to evade collective-bargaining agreements at the public's expense". Grols adds: "In the midst of the greatest crisis in aviation, a lot of money is being invested in a platform where years of start-up losses are to be expected. We urge politicians to take a closer look at how billions of government aid are being used."
The letter to Merkel was signed by staff representatives at multiple Lufthansa units – the mainline, budget subsidiaries Eurowings and Germanwings, regional arm CityLine and the group's training arm – and by representatives of staff at TUIfly and Condor. The unions believe that Ocean is aimed at putting pressure on TUIfly and Condor – both of which have also received state support too.
"Lufthansa undermines the German wage level in the entire industry and creates a precarious working environment," Verdi general secretary for Eurowings staff Marvin Reschinsky contends. Verdi's position is that Lufthansa "lacks a viable strategy to deal with the crisis" and should develop "innovative long-term prospects".
UFO is of the view that, having deliberately exited the leisure market years ago, Lufthansa "does not have the structures anymore" to serve that market. Citing the likelihood of losses during Ocean's start-up phase, the union's former chief and current leadership-team member Nicoley Baublies states. "It is not only evasion of collective bargaining agreements – state money is deliberately burned in an environment that, due to the crisis, has nothing to do with a normal market economy."
Lufthansa says its decision to focus more on leisure traffic was not taken in response to the coronavirus pandemic.
"Even before the crisis, we saw great growth potential within the leisure sector and believe that the demand for leisure travel will recover much faster than the demand for business travel."
The airline says that with Ocean's establishment – a standalone entity – "we are strengthening our leisure expertise and expanding it further in response to future demand", noting that the new unit will operate "under the Eurowings brand".
Earlier this month, the airline launched an internal recruitment effort for pilot and flight attendant positions numbering around 300 "which only Lufthansa Group employees can apply for".
Lufthansa argues that it is "thus securing jobs with conditions that are significantly better than those of many of our competitors… during these difficult times".