United Airlines has reduced its revenue expectations for the first quarter of 2023 due to a "seasonality shift" in post-pandemic passenger travel behaviour.
"While all months of 2023 are expected to produce unit revenue significantly above the corresponding months in 2019, the company is observing new seasonal demand patterns, with lower-demand months such as January and February 2023 growing less than higher-demand months," the Chicago-based company wrote in a filing with the US Securities and Exchange Commission (SEC) on 13 March.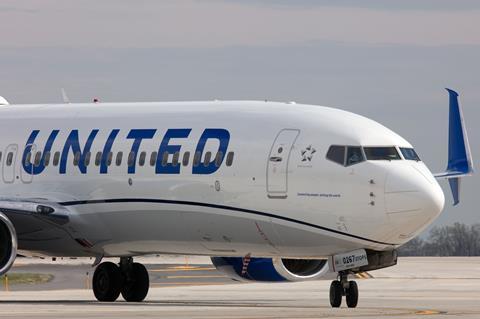 "As a result of this seasonality shift and the higher completion factor, the company now expects total revenue per available seat mile (TRASM) for the first quarter 2023 to increase between 22% to 23% versus first quarter 2022, below its original guidance of up approximately 25%," United adds.
But the carrier expects the slow sales to be made up in the second quarter. Current booked yield and revenue are "substantially higher relative to those in 2019 at this point in time" and total operating revenue is now expected to be up in the "mid-teens versus second quarter 2022".
Still, demand remains strong aand first-quarter revenue is expected to be around 51%, slightly higher than initial forecasts.
In January, United Airlines reported a 2022 profit of $737 million, the first time since 2019 that it ended the year in the black.