United Airlines continues to reduce its workforce, disclosing plans to lay off broad swaths of office staff, warning of pilot furloughs and, facing union backlash, pitching a new voluntary leave programme.
The Chicago-based airline will reduce its management and administrative workforce 30% with job cuts effective 1 October, United head of human resources Kate Gebo wrote in a 4 May letter to staff.
In the meantime, United is requiring management and administration staff to take 20 unpaid days off work between 16 May and 30 September, and many of those staffers will transition to four-day workweeks.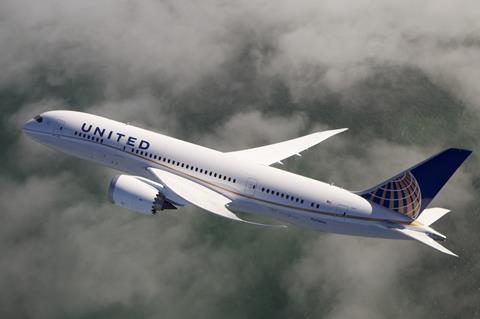 "We have to acknowledge that there will be serious consequences to our company if we don't continue to take strong and decisive action, which includes making decisions that none of us ever wanted or expected to make," Gebo says. "Governmental restrictions on travel, stay-at-home orders and the lack of a medical solution for COVID-19 have brought bookings and demand for travel basically to zero."
In recent days United said 30% of its roughly 12,000 pilots would be affected by "a displacement".
That term means "reshuffling of pilot staffing to adjust for less flying and [a] smaller fleet" through means such as shifting pilots to different aircraft types or transitioning captains to first officers, according to pilot union Air Line Pilots Association.
In a 4 May letter to pilots, United vice-president of flight operations Bryan Quigley warned the company might need to lay off pilots starting in October. The carrier cannot cut staffing until then due to stipulations under which it received US government coronavirus relief funds.
"If conditions do not improve before October, we won't be able to avoid furloughs. You have my commitment to communicate any plan regarding furloughs as soon as we have details," Quigley writes.
On 6 May, United also offered passenger- and fleet-service workers the option to take voluntary leave as an alternative to a previous plan that sparked a backlash from the International Association of Machinists and Aerospace Workers.
Under the previous plan, United would have transitioned full-time passenger and fleet-service staffers to part-time status, bringing employees' weekly work hours to 30 from 40, the union said in a lawsuit filed 5 May.
Such a move would "slash pay and benefits of approximately 27,000" employees and violate both federal labour law and terms under which United agreed to take government aid, the suit claims.
In a 6 May letter to employees, United chief operations officer Greg Hart's calls the voluntary leave option a "new solution" and stresses that the airline remains confident its previous plan did not violate law or government terms.
Full-time passenger- and fleet-service workers who accept voluntary leave will see their work schedules cut to 30h from 40h weekly but will retain full-time employment status.
"This proposed programme will only be successful if we have a high rate of participation" Hart adds. "Without a high level of participation, we will have no choice but to reconsider a mandatory reduction to 30h for our full-time employees."
Story corrected on 28 May to note that United had sought to bring passenger- and fleet-service workers' weekly work hours to 30 from 40.