United Airlines' pilots have reached a tentative agreement with the carrier to avoid furloughs until the middle of next year.
United's chapter of pilot union Air Line Pilots Association, International (ALPA) says on 16 September that the agreement is a "temporary lifeline" for the 2,850 United pilots who had been warned their jobs may disappear after 1 October.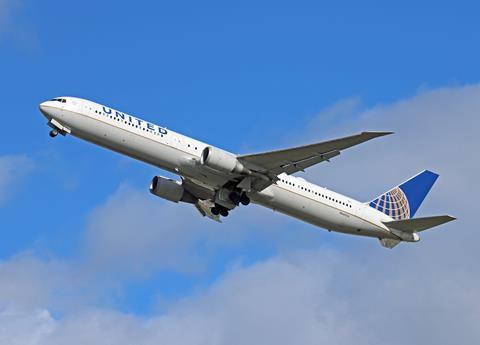 "This [tentative agreement] underscores our commitment to all 13,000 United pilots and represents the importance of creative solutions needed to mitigate massive layoffs for our pilots," says the carrier's pilot union chair Todd Insler.
The agreement, which will go to the entire membership for a vote later this month, gives older pilots with more than 10 years' experience the opportunity to take advantage of further early separation options and adds restrictions on regional carrier flying. It also secures triggers for pay increases as passenger demand returns.
If members agree to the conditions, the airline will avoid furloughing any pilots until June 2021.
The airline says on 16 September that it continues "to try and reduce the number of involuntary furloughs at United and are now one step closer to saving thousands of pilot jobs". That will allow it to respond quickly once travel demand returns, the Chicago-based carrier adds.
United said on 2 September it was planning to involuntarily furlough 16,370 employees starting after the end of this month as the long-term effects of the coronavirus crisis continue to take their toll on the air transport industry. Of that number, 2,850 pilots were warned that their jobs could disappear when government financial aid for airlines enshrined in the CARES Act expires at the end of September.
The $58 billion federal assistance scheme rolled out earlier this year prohibited airlines that took aid from laying off any employees before the end of the third quarter. That deadline is just two weeks away, and the air transport industry is still struggling with historically low passenger demand.
Some parts of the US and numerous other countries retain travel restrictions in an attempt to stop the spread of the highly-contagious virus, and some have even re-imposed quarantine requirements, putting a damper on customers' desire to travel by air.
Many US airlines and their unions are pushing lawmakers to extend the payroll support programme, in order to give airlines further time to recover. But a CARES-2 bill looks less and less likely.
"Hundreds of thousands of airline workers need the CARES Act extension, but with pilot furloughs just weeks away, we can't wait," Insler says.