United Airlines plans to furlough at least one third of its total pilot population as the carrier continues to grapple with the coronavirus pandemic's long-term effects on the air transport industry.
In a letter to the Chicago-based carrier's pilots on 30 July, Bryan Quigley, United's senior vice-president of flight operations, says the number of pilots the airline will expect to furlough is now at least 3,900. That's up from the previously announced 2,250.
The lower number was based on a "more-optimistic outlook that we were seeing prior to the Fourth of July holiday and only represented the number of pilots that could potentially be furloughed in 2020," he writes.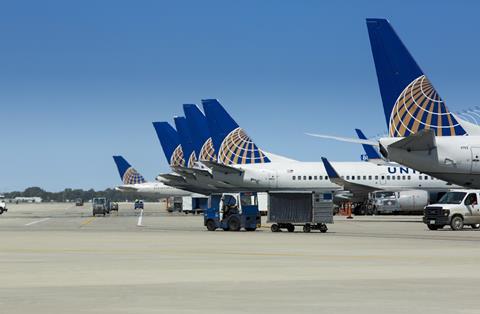 "The total number of pilots that we have developed furlough plans for is about 3,900, or roughly one third of our pilots," he says, adding that even that number may not be enough for the airline to survive the crisis.
"Because Covid-19 cases continue, and demand improvement remains very slow, we may need to furlough more pilots in 2020, and in 2021, than originally planned," he adds.
United's Air Line Pilots Association, International (ALPA) union president Todd Insler says in a letter to union members that the news "confirms our airline's stark reality".
"Although some furloughs can be reduced by existing mitigation programmes and early-out options, many more thousands of pilots are now at risk because demand has not recovered," Insler writes.
Earlier this month, ALPA agreed to voluntary furlough and leave-of-absence programmes for pilots, as well as an early retirement option. Insler says the union "has an obligation to investigate any company offer of additional mitigation options" following this new announcement.
"We cannot ignore the reality or shirk our responsibility, nor can we negotiate these options in public," he says. At stake is nothing less than "the survival of our careers".
Given the recent surge in virus cases across a large swath of the US and the introduction in some parts of the country of new travel restrictions designed to mitigate the spread, Quigley says the airline does not expect customer demand to exceed 50% of 2019 levels until a vaccine is widely available.
"If 50% seems pessimistic to you, consider that even to get to that 50% level, revenue demand has to increase by about four times compared to where it is now," he adds.
Last week, United reported a $1.6 billion loss for the "most-difficult financial quarter in its 94-year history". Revenue between April and June was down 87% and capacity was 88% lower than the same quarter a year earlier.
The airline has already warned 36,000 employees, or 45% of its total staff, that their jobs may be in danger as long as passengers stay away from air travel.
Pilot and flight attendant unions have called on the government to extend a payroll support programme – due to expire at the end of September – into early 2021.
That said, analysts and airlines suspect recovery to 2019 levels will take three years or longer.