United Airlines reiterated its target to be profitable in 2022, as it expects robust travel demand to offset "fundemental challenges" posed by rising fuel costs and a looming economic recession.
The Star Alliance carrier made the forecast as it released its quarterly earnings, which saw it bounce back to the black on the back of a significant revenue increase.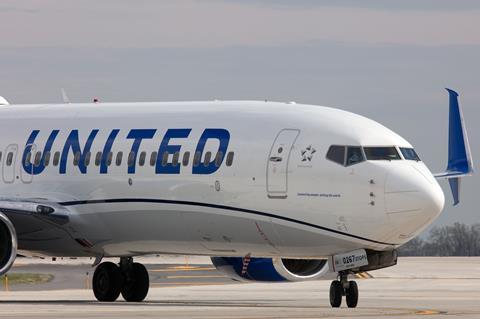 For the three months to 30 June, United posted a profit of $878 million profit, reversing the $270 million loss it reported in 2021's second quarter. It also marks a dramatic shift compared to its first quarter earnings, when it was $1.38 billion in the red.
Revenue, at $12.1 billion, was more than double 2021's figure, and a 6% rise against pre-pandemic 2019. Costs, meanwhile, doubled year on year to $11.2 billion, led by a spike in fuel prices.
"Second quarter revenue improved at a rapid pace and while the company anticipates the economy will slow in the near to medium term, the continuing pandemic recovery is more than offsetting economic headwinds — leading to expected revenue and earnings acceleration in the third quarter," says the Chicago-based carrier.
United reported a net profit of $329 million, compared to $434 million net loss in the same period a year ago.
However, the airline was still flying below pre-pandemic levels, and looks set to continue doing so for the next year or so.
Traffic and capacity for the second quarter increased 90% year on year, but were down 14% and 15% respectively against 2019 levels.
The carrier had previously targeted second quarter capacity to be about 13% below pre-pandemic levels.
In newly-released estimates, United expects full-year capacity to also be 13% below pre-pandemic levels. It revised 2023 capacity targets to no more than 8% lower than 2019, compared to previous estimates of capacity growth
United chief Scott Kirby, in a statement following the second-quarter financial results, warns of imminent near-term risks confronting the airline.
Says Kirby: "It's nice to return to profitability – but we must confront three risks that could grow over the next 6-18 months. Industry-wide operational challenges that limit the system's capacity, record fuel prices and the increasing possibility of a global recession are each real challenges that we are already addressing. These fundamental challenges have already led to higher costs, higher fuel prices, but also higher revenue."
The US airline sector is in the midst of an operational crunch amid a surge in travel demand leading up to the summer season. For instance, United in late-June cancelled 50 daily flights from its East Coast hub at Newark Liberty International airport to alleviate airport congestion and minimise delays.