United Airlines has taken a 10% stake in Mesa Air Group, the parent of Mesa Airlines, valued at $10.5 million.
The Chicago-based carrier said in a 23 January filing with the US Securities and Exchange Commission (SEC) that it acquired 4,042,061 shares of Mesa. In addition, a United representative will join the Phoenix-based airline's board.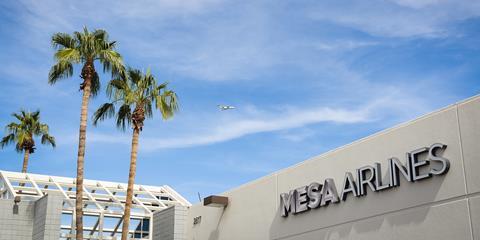 In December, Mesa severed its 30-year partnership with America Airlines in favour of a new, five-year capacity purchase agreement with United Airlines. The deal covers up to 38 Bombardier CRJ900s.
Mesa has been flying for both carriers, with 37 Bombardier CRJ900s in service with American and 60 Embraer 175s in service with United, according to Cirium fleets data.
With the new transaction, Mesa intends to continue using its same crew and maintenance bases in Phoenix, Dallas and El Paso in Texas, and Louisville, Kentucky. It also has United's support in opening a crew base in Houston and a pilot base in Denver, with potential to add further sites.
The agreement stipulates that Mesa will operate its current schedule with American through 28 February 2023, then reduce flights by half until it stops flying for American on 3 April. Mesa plans to begin transitioning aircraft to United in March.
While accounts differ on why it broke with American, Mesa chief executive Jonathan Ornstein told employees in an internal memo in December that the carrier's operation with American was losing about $5 million monthly due to higher pilot pay rates and penalties for not meeting contracted block-hour requirements – meaning it was not flying enough.
United has confirmed plans to park up to 38 E175s in favour of operating Mesa's CRJ900s – a shift that will avoid United violating its contract with pilots.